I despise seeing a horse get whipped. Meaning, with a real whip that cracks loudly through the air and lands with utter devastation. Movies that have people getting whipped, for me, depict only a slightly less-disturbing situation.
A point here is the value of discipline. To avoid either of those above mentioned scenarios, as a business, means practicing measured discipline to the point that prevents the need for your business to ever suffer the devastating discipline of somebody else's whip. What does this have to do with your website and other online assets? Everything, I assert, if there is success to be had.
One path of discipline is the plan you have for your website, social media and search engine optimization.
Maybe even some "traditional" marketing gets included as a tie-in; these days, we all know how much more frequently online marketing is becoming termed as traditional while the print ads, direct mail campaigns, billboards, TV and radio increasingly (and oftentimes, incorrectly) get lumped into "old school," "waste of time," or "too expensive" categories. After all, many say, the Internet provides countless ways for cheap advertising and for marketing paths that are available to any small business owner with the gumption to look and do. Although this is a whole other topic – Internet marketing for small business – it is one that cannot sanely be separated from your website plan; I often recommend Carolyn Higgins at Fortune Marketing Company as a trusted source for valid marketing information and good strategy.
Never forget: the need for your website planning, construction and launch to be top-notch is unmistakable.
Walking this path can encompass a lot of ground. But for the purposes of giving you something tangible that can be used today, I am sticking to an overview of a few critical ideas.
Be Disciplined Enough To Avoid::
[dropcap2]1[/dropcap2] Becoming complacent with your "finished" website. If you've had your website professionally constructed, it should provide at least 3 years of serviceable and dynamic use to your customers. Remember, it's pretty much their website if you want it to survive. And if their website is already that old, or you have chosen not to keep it updated with fresh content and to provide ways for your customers to interact, then change those things right away.
CRRR-ACK!! (remember, that's the sound you never want to hear)
[dropcap2]2[/dropcap2] Falling into short-term gains at the cost of long-term relationships. Longevity in the online world is based largely on perception; if your business seems to be of little value, it will perish. Remember the classic routine in Glengarry Glen Ross, starring Alec Baldwin? The ABC's of sales in that movie were "Always Be Closing." For our purposes here, let's make it Always Be a Commodity.
The huge surge of Groupon is an example of one of those attractive [short term] relationships that may make you wake up one morning wondering what you did and with who. While it does work for some segments of small business, it seems the mid and larger-sized proprietors are more successful with it.
This great cartoon from Tom Fishburne's Marketoonist website says a lot: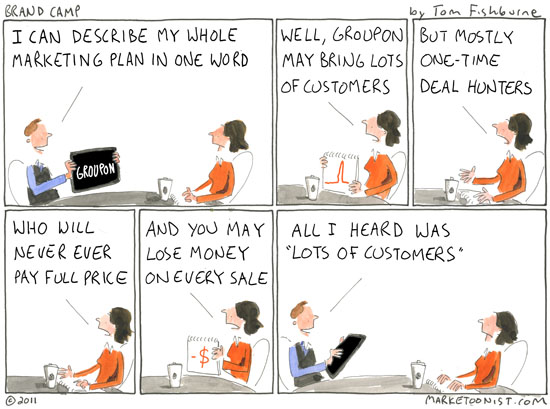 Running deeply discounted deals can create a short term spike in website traffic that can backfire in the long run. You can find plenty of woeful tales from people and businesses that didn't do the math and suffered, badly.
CRR-AACKK!! (big ouch)
Measurements of discipline here mean that your website is communicating long-term benefits rather than appearing to be one of those one-hit-wonder websites that offers the get rich quick white paper, unbelievably cheap cost for unbelievably large riches, low monthly fee to garner thousands of Twitter followers, etc.
Most of us spend hours and hours developing relationships, knowing their value, and want to have a website that reflects our efforts and that provides a good place for those relationships to stay connected with us.
Do you have differing experiences or opinions? Please add your comment to this post.
[dropcap2]3[/dropcap2]Becoming dismissive of the "small fish." Not only have I read others' accounts of this, but I have my own, ongoing relationship with the small fish concept. Let me ask you this — Have you ever gone to Craigslist to find a cheap plumber, handyman, moving service or even [gasp] a cheap web designer? If you have ever done the last one, you may very well have encountered me! We know that on every search we conduct on Craigslist, there is a person or company out there on the other side of that search who is eager to receive the inquiry. Eager to receive that question about just how bare-bones (a.k.a. competitive) of a price they can offer in order to land the job.
Pros and cons of being on either side of that search are widely argued. Today, I choose not to expend time on the debate but rather to spend time on catching fish – even the occasional bony one. I don't like to be hungry. Do you?
The more you fish, the better you get at it and the better your odds are for catching increasingly larger projects… I mean, fish. Can you apply this scenario to how your business and its website interact with customers?
Here's the nexus: No matter how, when or why you fish, you NEED to have an effective website to catch them.
Measure your discipline so that you do not exclude customers based on size – it's your opportunity to expand!
[dropcap2]4[/dropcap2]Getting discouraged over the flood of Social Media tools. Pick 1, 2 or 3 of the best and that's it, no more. To do even one of the Big 3 (Facebook, Twitter, YouTube) correctly takes some learning, time and practice. No doubt, though, they can pay off well in helping to drive traffic to your website. The biggest discipline I've found here is to stay consistent, relevant and valuable. It's far too easy to become spammy using these tools, so providing relevant content and developing relationships with customers and other businesses needs to be the focus.
[dropcap2]5[/dropcap2]Forgetting your business is an opportunity to serve others well. Now matter how obvious this discipline is, I'm sure we all need a reminder from time to time to avoid greed.
CRR-AAACKK!!
Maintaining relevance as a commodity and following some basic disciplines are essential components of your online longevity. The place you choose to start practicing discipline is up to you, but when it comes time to use it in planning your website construction and launch, be true to yourself, be measured and avoid the unnecessarily devastating discipline of the whip.