…is something you want people and robots to do, right? Where and how you host your blog is as important to your search engine rankings as which plugins you use and how you optimize your blog posts.
No blog? If you are simply launching a new section of content about your business, listen up. This applies to you, too!
4 Options
Externally hosted solution (Blogger, WordPress.com, Typepad, etc.)
Separate Domain
Subdomain
Subdirectory
Externally Hosted
While each of these options are available, workable and have their own pros and cons, there is one clear choice. We are going to eliminate externally hosted solutions right off the bat:
A business should almost always host their blog under their own domain, rather than the other options mentioned above. When other websites link back to your posts or other pages of your blog, you want the backlinking credit to go to your domain, not to Blogger.com or Typepad.com., etc. And it's not just backlinking "credit", it is also the very important factor of search engine results as they relate to your site (not the [externally hosted] site with your nomenclature that is hosted completely away from your domain name).
Separate Domain
I've always wondered why somebody would have complete separation of their blog from their business site. And when I thought about it, and put some personal recall into it, the answer came in the form of, "I didn't know any better." The pervasive idea of "more is better" would win me over and the then next thing I knew — blogs and ineffective little website attempts were everywhere around me! Today is a much different story.
Hosting your blog on a different domain from your primary site is one of the worst mistakes you can make. A blog on your domain can attract links, attention, publicity, trust and search rankings — by keeping the blog on a separate domain, you shoot yourself in the foot. From worst to best, your options are — Hosted (on a solution like Blogspot or WordpPress), on a unique domain (at least you can 301 [redirect] it in the future), on a subdomain (these can be treated as unique from the primary domain by the engines) and as a sub-section of the primary domain (in a subfolder or page – this is the best solution).
-Rand Fishkin, SEOmoz
Subdomains and Google
In the past, Google viewed subdomains as completely separate entities from the primary domain. They made a change in December 2007, announcing that subdomains would be more closely associated with the primary domain — not to the point of being viewed as a subdirectory, but not so completely separate. Although Google now more closely associates subdomains and primary domains, it still views them as separate entities. Thus, when another site links to your blog or individual posts, that "link credit" flows back to the subdomain rather than to your primary domain.
…You may be picking up on the gist of our recommendation by now, but keep reading.
Starting a blog? I almost always recommend yoursite.com/blog over blog.yoursite.com. Want to launch a new section of content? Use yoursite.com/newstuff rather than newstuff.yoursite.com.
-Scott Kindred, SafeHouse Web
The Subdirectory Way
If your blog tends to have content similar to that on your main website — and content relevant to your core offering — then having your blog in subdirectory of your primary domain creates a larger website with more related content. And any external linking credits to your blog flow back to your primary domain. The content of your primary domain is associated by Google with the content of your blog. If the blog is in a subdomain, although there apparently is some association, it appears that it's not nearly as strong as having the blog content in your primary domain.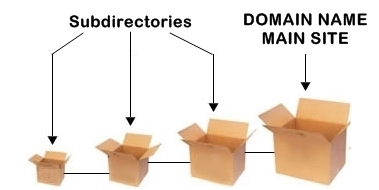 Adding the blog to the subdirectory shows the search engines that you regularly add fresh content to the root of the Web site, and you can feed (via RSS) the most recent posts to the home page and then promote this content through StumbleUpon, Digg, Facebook, Reddit, etc., and get folks to link to the content, so long as you created linkable (i.e., quality) content.
Consensus among the experts in SEO is that to achieve the optimal SEO benefits from your blog, you should host it in a subdirectory rather than a subdomain. So that's the bottom line here at SafeHouse Web, too. And our hands-down recommendation, also a consensus amongst experts, is the use of WordPress for both your blog AND your whole website; WordPress as a CMS is a solid platform that easily allows new and experienced users manage and edit their own website.
WordPress is open-source and there are literally thousands of developers creating new plugins that expand the features and functionality of WordPress, and there are literally thousands of themes, free and commercial, available to give your blog – and website – a distinct, professional appearance.