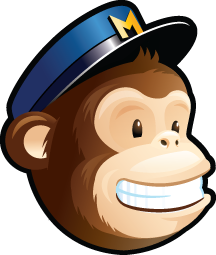 Being big, big fans of MailChimp and having a desire to pass along helpful information to our readers resulted in the reprint of the following email message from MailChimp, sent out yesterday. Their free email newsletter service is fantastic and we recommend it to people whenever possible.
Great stuff:
TXT SECURITY ALERTS AND 2-FACTOR AUTHENTICATION
New Security Features Available in MailChimp
Three new security features are now available in your MailChimp account. If we could force you to use them, we would. Since we can't, they're optional (but strongly encouraged)…
TXT and email security alerts: We'll send a TXT message to your phone when we detect a login, attempted list download, or other change that might affect your account's security. You'll be notified almost instantaneously, so you can take appropriate action fast. Email alerts are also available.
Detect location changes: If someone logs in to your account from a different location (IP address) than usual, you can force them to answer your account security question.
Two-factor authentication: Whenever you log in to MailChimp, we can require a passcode that you generate from a smartphone (works kinda like those cool passcode key fobs that banks use).
These features are all free of charge, though for the TXT alerts, your phone carrier may have their own fees.
Thanks,


& the MailChimp team