"Yeah, go ahead and use the word thingy to build my page…" The Oh-Boy client.
"I'm worried my site will look too much like a template if you use WordPress to rebuild it." The semi-informed client.
"Which theme are you going to use and what plugins do you recommend to make my site rock?!" The rare client.
Here is the segue: WordPress is used by over 13% of the 1,000,000 biggest websites.¹


Today I had phone conversations with the first two clients. Separately, of course. The Oh-Boy client is not scary on purpose, he is just not up on anything recent with regards to small business websites. Yet he wants a "good one" to promote his sole proprietorship business. He leaves it to me to build this "good one" and gives me authorization to use "that word thing" (I have explained and defined this for him more than once) to do it.
The conversation with the semi-informed client is nothing but pure opportunity to educate and provide him with choices. I really enjoy that part of specializing in WordPress for small businesses; I can explain the pros and cons to people as matter-of-fact instead of formulating some sort of sales pitch. I have come to the realization that some people will go with my recommendations not because of my ability to convince them or even based on the facts that WordPress stands head-and-shoulders above the rest without my explanation of it – but because I am being sincere about answering their questions and providing information that will likely benefit them.
After that, really, WordPress does all of the convincing itself. Professional appearance, solid performance, built-in SEO, flexibility, a huge support community and that minor issue of cost – all make things self-evident.
So let's answer the question, in today's terms: What Is WordPress?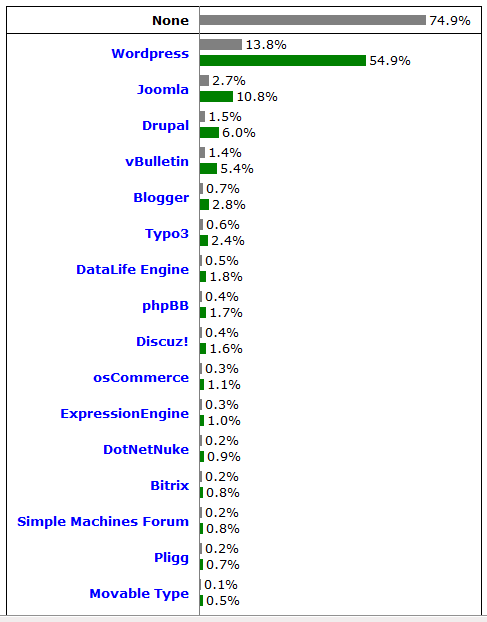 WordPress is an open source Content Management System (CMS), often used as a blog publishing application, powered by PHP and MySQL. It has many features including a plug-in architecture and a template system.
WordPress is used by over 13% of the 1,000,000 biggest websites.
It was first released on May 27, 2003, by Matt Mullenweg as a fork of b2/cafelog. As of February 2011, version 3.0 had been downloaded over 32.5 million times.
WordPress has a web template system using a template processor. Users can re-arrange widgets without editing PHP or HTML code; they can also install and switch between themes. The PHP and HTML code in themes can also be edited for more advanced customizations. WordPress also features integrated link management; a search engine-friendly, clean permalink structure; the ability to assign nested, multiple categories to articles; and support for tagging of posts and articles. Automatic filters are also included, providing standardized formatting and styling of text in articles (for example, converting regular quotes to smart quotes). WordPress also supports the Trackback and Pingback standards for displaying links to other sites that have themselves linked to a post or article. Finally, WordPress has a rich plugin architecture which allows users and developers to extend its functionality beyond the features that come as part of the base install.
Native applications exist for Android, iPhone/iPod Touch, Windows Phone 7 and BlackBerry which provide access to some of the features in the WordPress Admin panel and work with WordPress.com and many WordPress.org blogs.
Check Wikipedia for even more detail.
If you have questions about how built-in SEO, easy management and updates, professional appearance and low cost can help your business' website, feel free to ask them here! Or use the contact us form to send a confidential question.
¹ W3Techs.com. Usage of content management systems for websites
here we compare the real brand watches we all know and love with some incredibly convincing chopardreplica.com with in-depth analysis. cheap https://www.replicarolexforsale.co/ is loaded with strength, vivid.