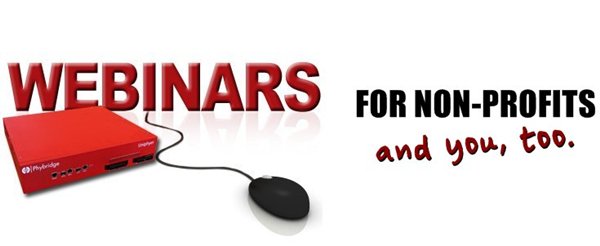 Are non-profit organizations using the same concepts as small businesses? To a large extent, yes, and here are some great opportunities get current information and learn techniques that you can apply to your own needs. These useful webinars can be used in non-profit organizations and private and public sector businesses, alike.
Crowdsourcing vs Community-sourcing
Wednesday, 11 May 2011
3:00 PM (Eastern)
Have you heard about "crowdsourcing" or maybe event tried it at your organization? Well, there's a big difference between working with the crowd and working with your community! ThisNonprofitWebinars.com webinar, led by Amy Sample Ward,  will explore the differences and identify opportunities for your organization to start building engagement and participation.
Your Board and Fundraising: An Introductory Class

Thursday, 12 May 2011
3:00 PM to 4:00 PM (Eastern)
This FoundationCenter.org webinar will help you think through the process of getting your Board involved with fundraising. The session will cover: the role of your board; why board members may be reluctant to fundraise and how to overcome these concerns; ways the board can participate in fundraising activities and tips for strengthening your fundraising board.
Getting Your Systems to Talk to Each Other
Thursday, 12 May 2011
1:00 PM to 2:00 PM (Eastern)
Do you want to get two or more software packages to share data?  In this Idealware webinar, they'll talk through some of the high level options and key considerations, including integrating manually via spreadsheets and take on some concepts that will help you understand whether it's likely to be practical for you.
Google Marketing Basics for Nonprofits: The Steps From Goal-setting to Results
Tuesday, 17 May 2011
1:00 PM (Eastern)
Want to be a smarter online marketer? Does the term "Search Engine Marketing" cause you anxiety or frustration? Join Kevin Gottesman for this Network for Good webinar where you'll learn to set online marketing goals for your website, improve landing page conversion rates and understand what free online marketing tools are available to you that can help keep your marketing costs under control.
Managing Difficult Volunteer Transitions

Tuesday, 17 May 2011
11:00 AM to 12:00 PM (Pacific)
What do you do when it's time to ask a volunteer to leave your organization? This Volunteer Matchwebinar will give you the tools to address challenges around difficult volunteers, volunteers aging in place, and suggestions to minimize these situations in the future. Suggestions for determining when a volunteer should be terminated, and making it easier on you, other volunteers, and staff will be presented. And, the role that risk management plays in these decisions will also be included.
Wednesday, 18 May 2011
3:00 pm to 4:00 pm (Eastern)
In this FoundationCenter.org webinar, those new to proposal writing will find answers to common questions, such as: how the proposal fits into the overall grant seeking process; what to include in a standard proposal to a foundation; what funders expect to see in your proposal and attachments. You'll also learn tips for communicating with funders during the grant process and additional resources on proposal writing, including sample proposals.
Boomer Volunteers Building Capacity: The Foundations for Success
Wednesday, 25 May 2011
12:00 PM – 1:00 PM (Pacific)
Imagine a world in which you have all the resources your organization needs to serve more clients and deliver more programs. The skills and talents of Baby Boomer volunteers can help make this vision a reality. Join Jill Friedman Fixler, author of the Boomer Volunteer Engagement series, and co-author/editor Beth Steinhorn for this introduction to the tools and strategies that can help you engage Boomer volunteers as leaders to help your organization use high-impact volunteers to build organizational capacity. This Volunteer Match webinar will feature case studies, needs assessment, timelines, and recruitment tools. The series is designed as a collection of four separate webinars and can be taken in any order.
Effective Marketing Communications on a Shoestring
Wednesday, 25 May 2011
3:00 PM (Eastern)
Most nonprofit organizations have extremely limited marketing communications budgets, but that doesn't mean they can't create and execute effective marketing plans. This NonprofitWebinars.comwebinar, led by Michele Levy, is designed to help both leadership and marketing/communications staff think about: who is the target audience? what are your goals? what are the most effective ways to reach your target audiences? how will you know what's working?
Where do I go from here? Evolving your Volunteer Program for More Involvement
Thursday, 26 May 2011
11:00 AM  to 12:00 PM (Pacific)
How long do volunteers usually stay with your program? Do you struggle with keeping them interested, involved and engaged? This Volunteer Match webinar will help you think about new strategies and help you evolve your program to include new roles and responsibilities for volunteers, pathways for more involvement and leadership positions in your program, how recognition plays a role in retention, and the importance of including continuing education and professional development to keep your volunteers engaged. Tools to help you evaluate your program implement new ideas will be provided.
Thursday, 26 May 2011
2:00 PM to 3:00 PM (Eastern)
Learn how to prepare and present a budget in a grant proposal. This FoundationCenter.org webinar, for the novice grantseeker, will answer budgeting questions, such as: what kinds of expenses are covered under "personnel?" What level of detail do you need to include for non-personnel expenses? What types of expenses can be included in the "overhead" category? What other documents will funders want to see? Foundation Center strongly recommends taking their Proposal Writing Basicswebinar prior to this one.
Tuesday, 31 May 2011
2:00 PM to  3:00 PM (Eastern)
Learn how to build relationships with foundation prospects and prepare for calls and meetings with funders. From initial contact to getting funded, following field-tested best practices will increase your chances of getting the grant. In this FoundationCenter.org webinar, you'll learn how to initiate contact with potential funders; plan calls and meetings; communicate during and after a grant decision; and ultimately, how to build lasting partnerships with grantmakers.