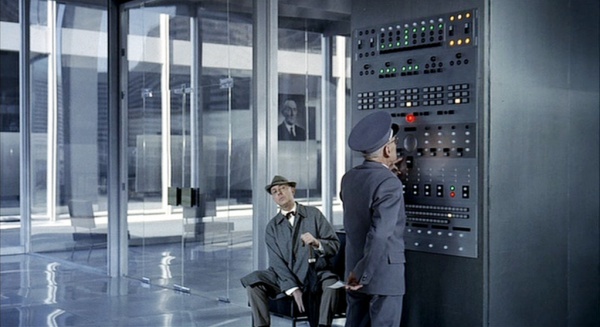 If you are the Executive Director of a nonprofit organization, or someone at a leadership level who has responsibility for your NPO's online presence, then the need to understand the importance of Google tools is high. Google is so much more than just a search engine, it is a suite of tools and helpful resources that are fully capable of fueling a capital campaign, a special event fundraiser or any other activity where you are relying on the Internet to maximize your revenue; helping you to attract new donors, engage existing ones and giving your website the boosts it needs to excel.
1. Google My Business
Google My Business is great for every NPO. If you have used Google Places, Google Local or Google+ pages to help manage your non-profit organization's online presence in the past, then your account will have automatically been upgraded to Google My Business. One of the main benefits of Google My Business is that it makes it easier than ever to update and standardize your own information across Google Search, Google+ and Google Maps. Sort of a one-stop-shop control panel for your organization's public-facing presence on Google properties.
Using our Google+ business page as an example, here is an easy way to find the link to your own Google My Business control panel: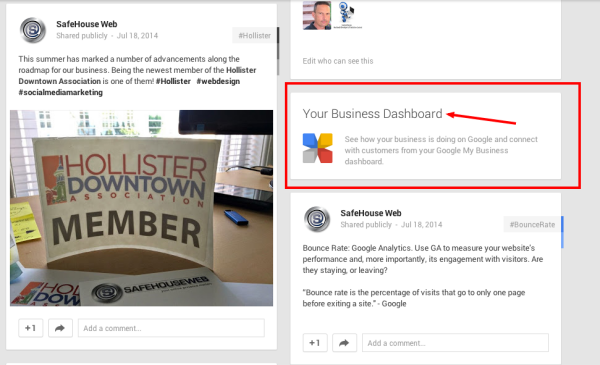 2. Google Analytics
Google Analytics is certainly a Google tool to consider if you want to monitor your website's activity.
Any CEO or top level marketing exec would surely consider the absence of a trusted way to measure your website's performance tantamount to negligence, so make sure you have this in place. Google Analytics helps you to understand how many visitors your website is getting and where your traffic is coming from and a plethora of other statistics and performance indicators. This is especially useful if you run a marketing campaign, as it also shows when your website is getting the most traffic, whether that traffic is coming from specific ad campaigns you have in place, social media referrals, and much more.
3. Google Plus
Google Plus (Google+) might not seem among the top contenders when it comes to networking and connecting to your viewers, but as a Google product it definitely integrates with the other Google tools.
For example, the information you enter on your Google + page will show on Google search results, maps and local directory results.
This makes it a must-have when it comes to things such as donor recruitment. You will also find that when viewers search for your NPO on Google, your Google Plus page shows up among the top searches in most cases. This is because Google gives weight to its own properties (like Google + or Google Maps), making it more likely people searching for your organization or group will see your Google + page towards the top of the search results.
Here is an example of how this works for search for a local food bank; it is a principle that can be applied to community pantries, homeless coalitions, youth alliances, community foundations or any other organization that has a viable website:
Search term entered into a Google search: food bank in san francisco
Results: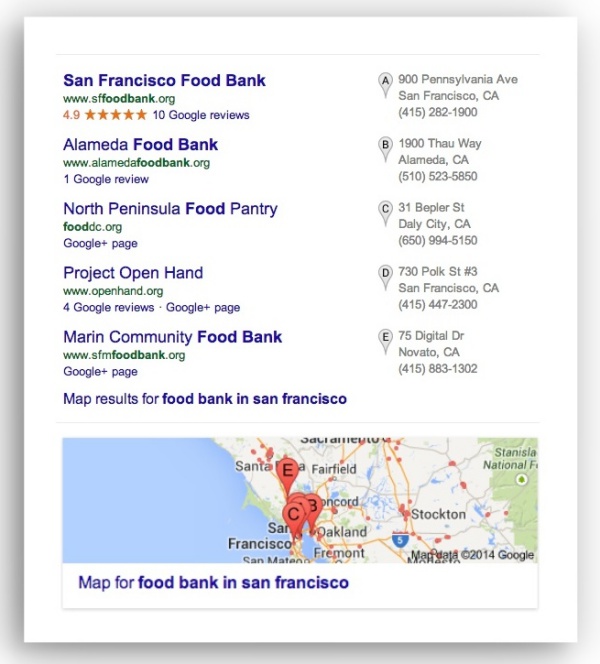 Note how prominent the Google + information is shown and how it is connected to Google Maps. As an Executive Director, Administrator or person responsible for improving search results and visibility for your non-profit organization, this is important for you to know and take action on.
4. Google for Nonprofits
Google also offers a selection of benefits to those who operate within a non-profit organization. This isn't specifically a tool, but it does compliment a range of other tools that Google has to offer. You can get everything from Google Ad grants, which is free AdWords advertising, to Google Earth outreach grants and even Google apps. This makes things a lot easier when it comes to connecting to your supporters, not to mention that it can be free of charge.
Bonus Tip: Make sure your website's URL has been submitted to Google for indexing. It will happen naturally, over time, but if you want to be sure you've covered all your bases, check out our wildly popular how-to article, How to Submit URL to Google, Bing, Yahoo! and Ask.
5. Google Drive
Google Drive is similar to Dropbox. This cloud storage system enables the user to store up to 10 GB of data, including video, audio, documents and even spreadsheets. One of the best things about Google Drive is that you can integrate it with third-party applications, customizing your Google experience to meet the needs of your NPO and your contributors. It is also a safe and secure way to store your NPO data regarding your outreach campaign.
Choosing to use these tools will help you reap the benefits of being more modern, accessible and effective for all three of your audiences: those who need help, those who give help and those sitting on your Board of Directors.
Subscribe to our blog and get the next installment about Google tools that can help non-profit organizations, faith-based groups and businesses.
Coming Up: Using Google Drive for Surveys and Online Forms, plus Google Wallet for Fundraising.