Get Found Locally and Globally – At the Same Time
Lately I have had the opportunity to work with a few local small businesses and show them how to use some powerful and free SEO tools to help improve their site rankings with search engines. Some of the businesses cater strictly to Hollister locals or to consumers in the central coast region, and others have an online reach to anyone who is interested in purchasing their goods directly online. Whether your site runs on WordPress or not, you do not want to pass up the opportunity to promote your business and get some additional online exposure by using Google Places.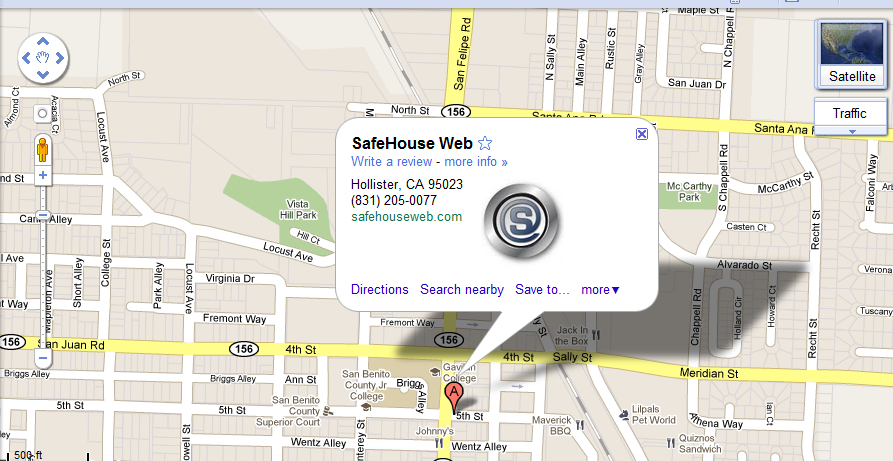 What is Google Places?
Formerly known as Google Local Business Center, the new Google Places helps people who are searching to make more informed decisions about where to buy.  Google lists everything  under the sun, from coffeehouses and taquerias to the local pharmacy and favorite corner bar, as well as non-business places like churches, schools and parks. Here in Hollister, California, Google even lists earthquake resources.
Google Places connect people to information from the best sources across the web, displaying photos, reviews and essential facts, as well as real-time updates and offers from business owners.
Step 1: Go to Google Places and click "List Your Business"
For those entrepenuers who have more than 10 business listings, you can add them effeciently using the bulk upload feature.
Step 2: Check to see if your business is already listed by Google Places
Type in your phone number on the first registration screen and see if it matches correctly with your business number and location. Be sure to double check the location name and address. If it matches, that means Google is already "aware" of your business and you now have the opportunity to edit and enhance your existing listing. If not, you get to create a new listing. Remember to make sure you are signed in to Google Places with the Google account that you want to use.
Step 3: Follow the steps provided by Google
Enter all of your basic information, add categories that apply to your business, hours of operation, photos, videos, payment options and any additional details you want potential customers to know about.
Step 4: Get your listing verified
Google will call you to verify your listing; don't worry, it's not Mr. Google that will be calling.  Be sure to have your phone handy because the call will be almost immediate. Otherwise you can verify via SMS or postcard. It normally takes no more than 12 hours for your listing to appear. Once listed, you can track how your business listing is performing on Google with a personalized dashboard within Google Places. It includes data about how many times people have found your business on Google, number of impressions and number of actions (clicks).
That sums up the basics of getting started with the free, powerful tool. More can – and should – be done with your listing, like getting reviews, offering coupons and discounts, and more. Keep your listing fresh and you will be more likely to be found, locally and globally.