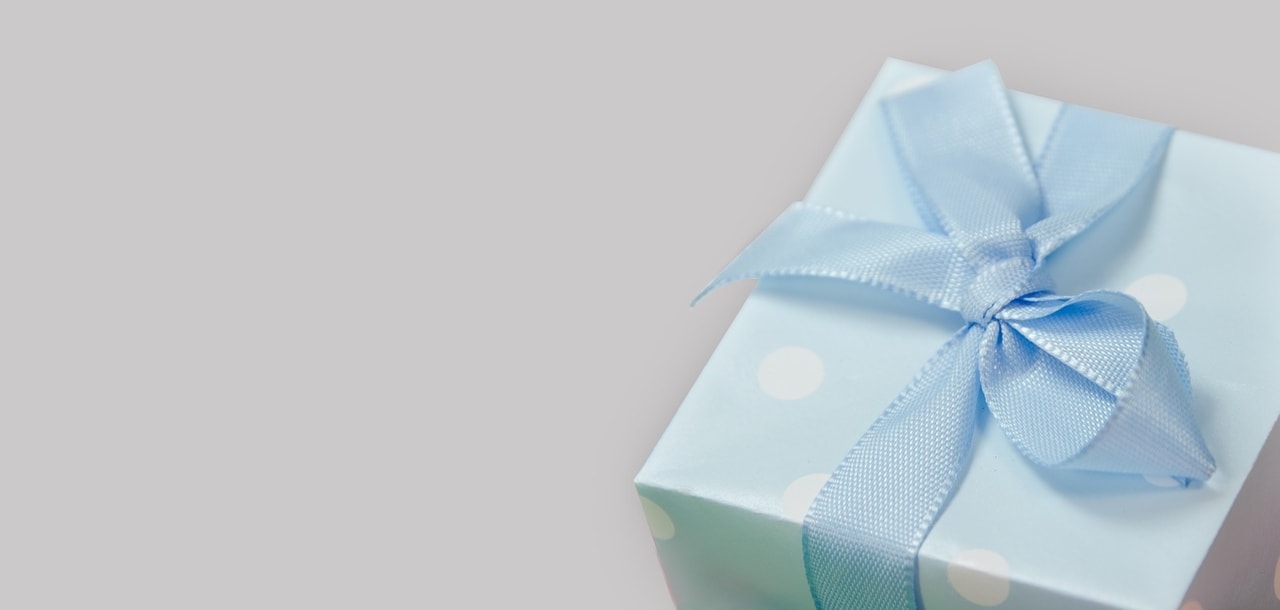 It's that time of year again. Consumers are making their lists, checking their wallets, and getting ready to spend big this holiday season. The National Retail Foundation forecasts that holiday retail sales will increase almost four percent this year, with online sales expected to increase seven to 10 percent over 2015.
Is your company prepared to take advantage of this sales opportunity?
Sure, you have your specials set for Black Friday and Cyber Monday, and your December email newsletter is on point. But have you considered holiday gift guides?
In a world where consumers increasingly look to image-heavy Instagram, Pinterest, Tumblr, and other social media for gift inspiration, gift guides (especially with standout visuals) are a great way to drive sales during the holiday season. They are a source of inspiration and if your edited and well-presented gift guide can help a consumer find the perfect gift for their giftee? Well, you just may have created a life-long fan.
Gift giving is, of course, a bit of an art. It is also a source of a lot of stress. People don't want to give the same old sweater or fruit basket but they often get stuck and end up disappointed with their gift purchases. This is where your holiday gift guide comes in. Create a targeted, themed gift guide that is highly visual and with links that make it easy to purchase the items, and you'll relieve a lot of stress this season.
This is where your holiday gift guide comes in. Create a targeted, themed gift guide that is highly visual and with links that make it easy to purchase the items, and you'll relieve a lot of stress this season.
There are two strategies you can employ with gift guides. The first is to create a guide using your own products, curating lists in categories that align with typical purchasing patterns. The other is to seek out gift guides on other sites to feature your products. Whichever strategy you employ – and we'll look at both in this post – gift guides can easily augment your current marketing plan leading to increased holiday sales.
What is a Gift Guide?
Before we dig into what makes a good gift guide and how one can boost your holiday sales, let's take a look at the basics of gift guides.
Gift guides are simply compilations of gift ideas for a person with a particular interest, or a group of ideas that fall within a certain price range. Some gift guides feature products from only one company (appropriate if you have a range of products or services to offer), while others will select products from a variety of sources (best choice if you wish to be viewed as a trusted resource).
Always meticulous Apple presents a gift guide that – you guessed it – includes only Apple products. And that makes sense for their business model. Here's a peek at their clean, stylish guide featuring their number-one product: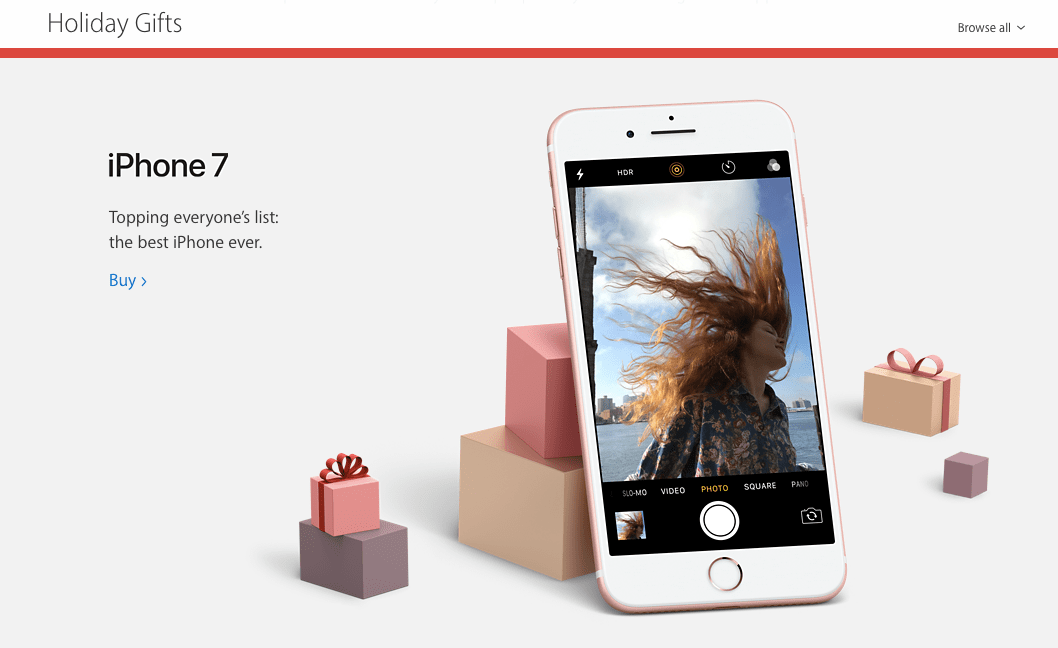 Providing an Apple-only gift guide works for Apple. It would seem odd for them to include Samsung phones or accessories (or any other company's products) on their list of "must-haves," since people viewing their guide are searching for gifts for an Apple customer.
On the other hand, many companies only wish to add value to their customers and clients with lists that make their holiday shopping experience a little bit easier. Take a look at this gift guide on the Popular Mechanics web site: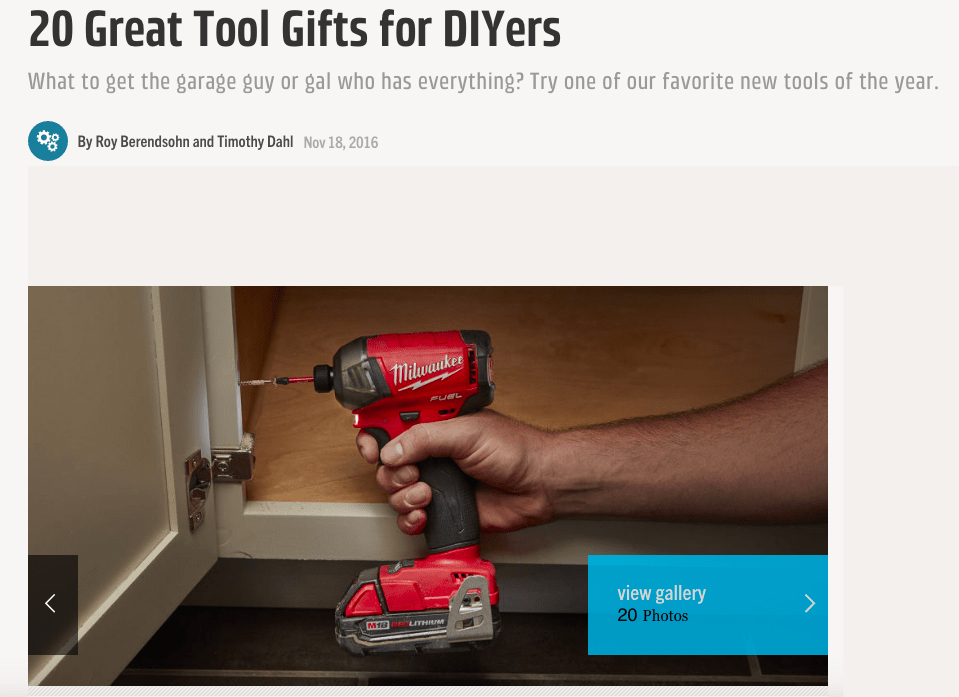 And this one on Modern Dental Network: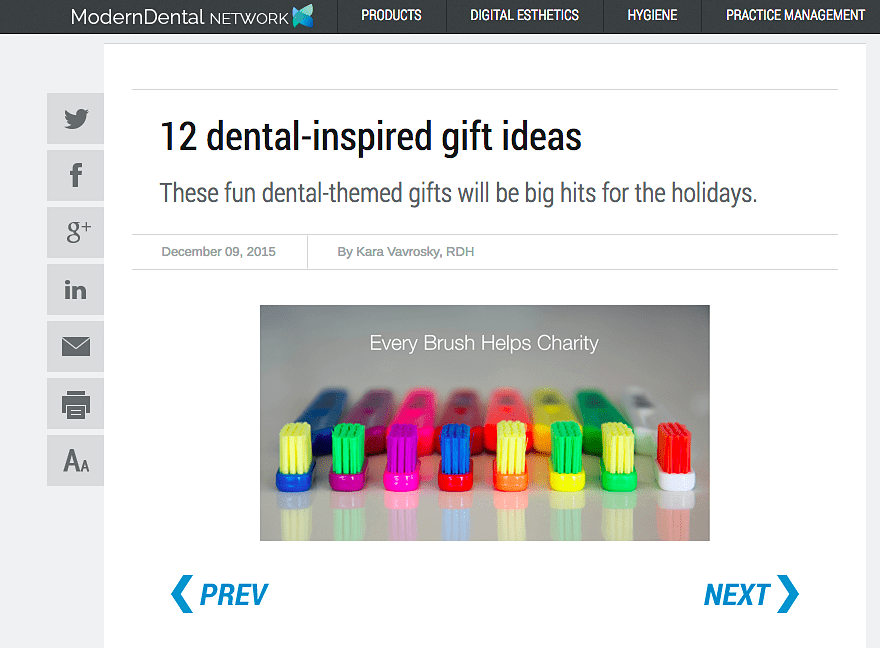 Both guides are collections of products from several different companies. They don't sell the individual company's products (neither company is in the retail sales business) so these guides are not designed to generate sales revenue. What they do, however, is provide visitors with information that they need at this time of the year. Even though the companies don't directly benefit, they are giving something away. In doing so, they hope (and likely will) make holiday gift buying a little easier. These two gift guides are examples of how companies can position themselves as go-to resources, as well. 
All three of the guides we've looked at so far have fairly specific themes and narrow target markets. And that is something to keep in mind when you're creating a gift guide: The best and most successful gift guides avoid your run-of-the-mill themes, either by being very specific within the niche, or riffing off more traditional themes. This gift guide on BuzzFeed, for example, is likely to get a lot more traction than a gift guide offering the blander, Top 10 Gifts for Runners: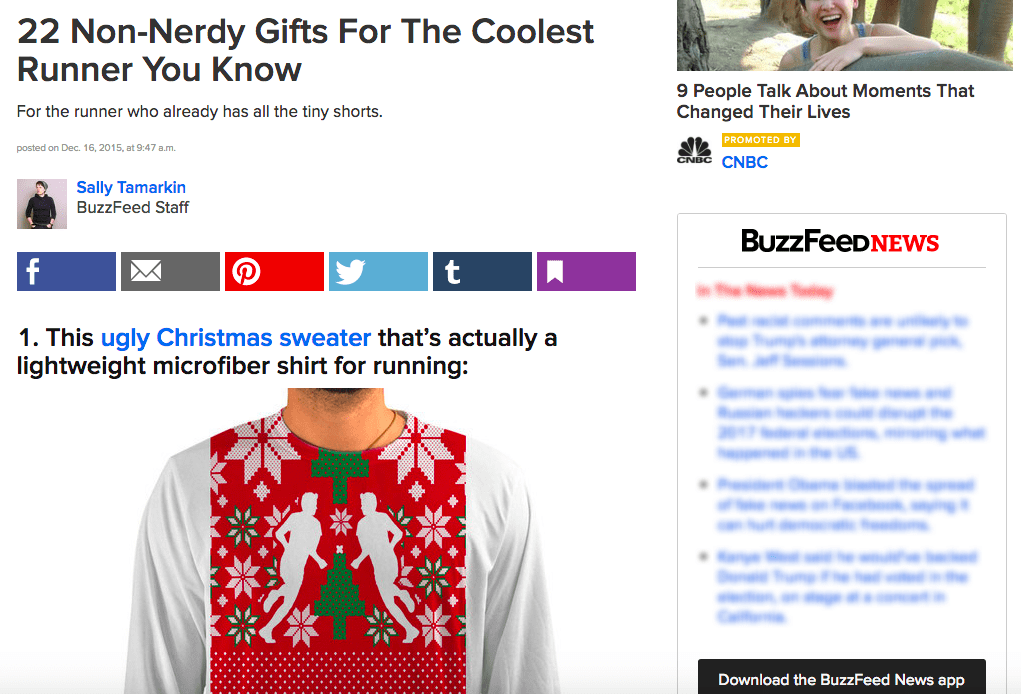 And this guide from Imagination Soup is targeted to a specific type of gift for kids – STEM-related gifts – which makes is more likely to be found by the right audience.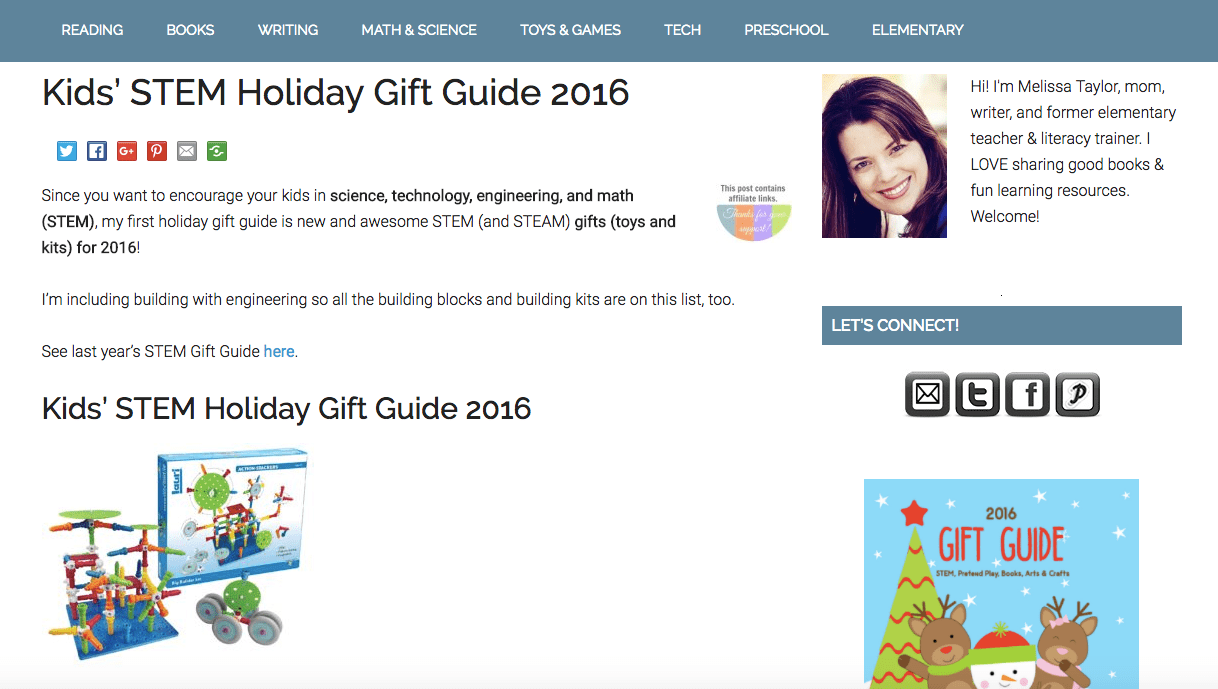 All of the guides include a feature that is critical for successful holiday gift guides: They link the products directly to the buying process so visitors can easily purchase right then and there.
So, that's what holiday gift guides look like. But maybe you still need convincing that they are worth the time and effort it takes to create them so let's take a look at their benefits.
Benefits of Gift Guides
In 2015, Experian Marketing found that holiday themed emails, including those with gift guides, produced "an increase in email click and session rate, as well as a 25 percent increase in transaction rate and 18 percent increase in revenue per email." That's some compelling data to justify creating a holiday themed gift guide or making sure your products are featured in one. And I'm sure we could list plenty of other statistics to satisfy the data junkies on your team. But the benefits of gift guides go beyond click-through and immediate product sales. As we touched on a little but earlier, gift guides can help position your company as a trusted, innovative resource. They can also convey more of your product and brand story. These are benefits that will last long after your customers have wrapped and gifted their holiday purchases.
Proof Branding created a gift guide that highlights only brands that are in their hometown of Nashville. Smart thinking: Their guide reaffirms their vibe as an honest Nashville company. Not only does their gift guide support their story, but it is a little gift in itself to the local companies that it features.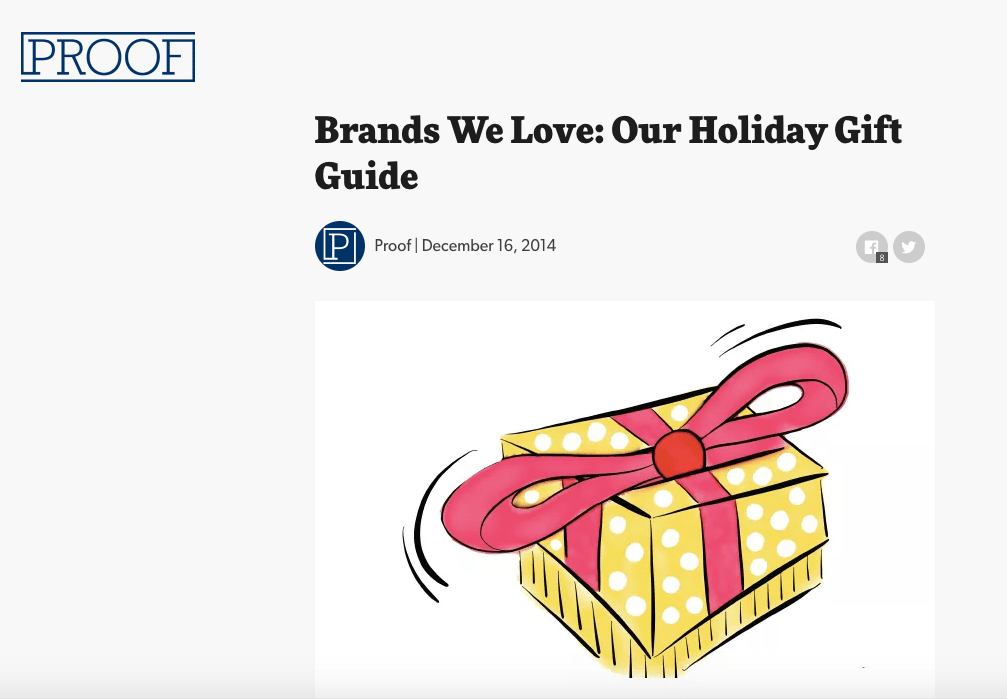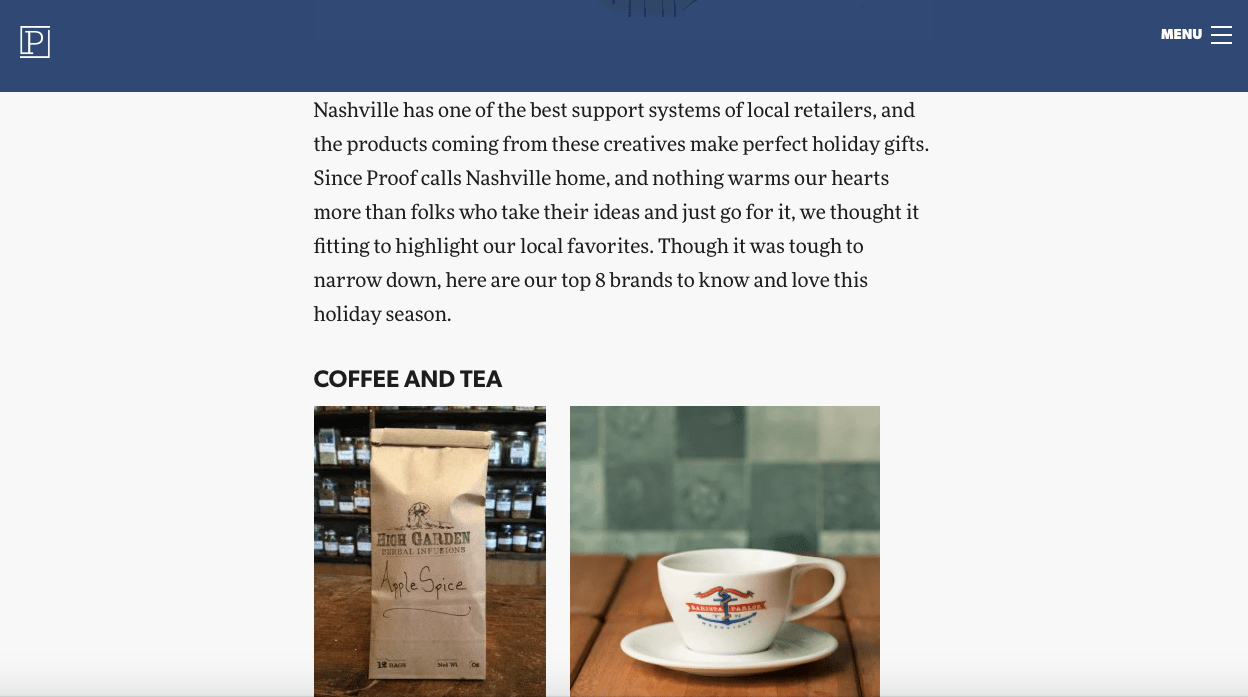 You can bolster your story by adding context to every selection in your gift guide. Why did you choose the item? What makes it the perfect gift? What's fun and different about it? What you choose to share will tell your readers as much about your company as it will about the product.
Keys for a Standout Gift Guide
There are a few "must haves" if you want your gift guides to standout and drive traffic and sales. Here are some tips to keep in mind:
Make it relevant – This might be obvious but make sure you feature products that people would actually want to buy. Look at the trends. Think about what is happening in the marketplace. Use your market data to drive what you include in your gift guide.
Show off your product – Include high-quality visuals that are consistent throughout the guide. People are used to seeing stylish, quality images even from the most amateur photographers on Instagram so your product images need to compete at that level or above. Don't holdback here. Invest in first-rate images and provide multiple views of products where necessary. Got video? Don't be afraid to share that, too.
Share all the details – This is the time to put it all out there. Communicate all of the product information that you believe will support easy buying decisions. This is a gift guide, after all, so guide the consumers to a place where they can confidently make a purchase. 
Make checkout a breeze – Be sure that when someone is ready to buy they can do so without having to click a dozen times. Link all products directly to your checkout page, or the site where they can buy the product. Don't lose sales or create frustration by making this a cumbersome process.
Incorporating a Gift Guide in Your Marketing Plan
The hard work is in creating a gift guide – sharing it with others is easy. Here are some ideas for getting your gift guide out to clients, customers, media, and other businesses:
Create your holiday gift guide as a page on your website. Share it on Twitter, LinkedIn and Facebook. Link to it from your company blog. Share that blog post on your social media as well.

Highlight the guide in your email newsletter. Link to the guide or embed it in the newsletter itself.

Highlight one product image each day on your Instagram.

Reference it in display ads and link to it from online ads.

Include it in physical mailings.

Make all images easily pin-able on Pinterest. Create a Holiday Gift Guide Pinterest board and highlight all of the products.
Letting Someone Else Do the Work
Some of you may not want to go the create-your-own route. You'd rather have your amazing product featured in gift guides that will drive a lot of sales for that particular gift. If that's you, we say, go for it! Just be prepared to put on your PR hat and get ready to do a little digging and pitching.
As with getting a product featured in any media outlet, you'll need to identify the gift guides, determine how they accept submissions, and then write a pitch for your product. It can be a time-consuming process but can also be quite worth the effort. The benefits of having your product or products featured in other holiday gift guides is that they will generally attract a different audience than you.
Have you had success with holiday gift guides in the past? What has worked well for you? Share your additional tips in the comments.