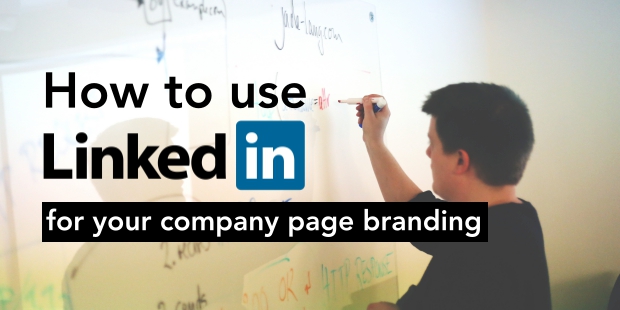 Social media marketing is essential for brand promotion. For universities, this translates into student recruitment, admissions, faculty recruitment and development of financial support from community supporters and donors.
LinkedIn is the most widely used professional social media platform. Setting up a company profile and posting LinkedIn company page updates for your higher education institution may seem easy enough, but true brand promotion on LinkedIn is a bit more complex. Frequent posting and mass InMailing will only build up your brand so much without knowing more about who you are trying to reach and what they want to read.
Successfully promoted brands utilize LinkedIn to inform and engage their intended audience. They extend their in-person reputation online by gaining followers, creating content to match their followers' needs, and reaching their audience at strategic moments throughout the day. Their social media presence is dynamic and draws attention to their company through authentic social media engagement.
A Story of Two Brands in Higher Education
All manner of brands are making the most of LinkedIn. Regardless of your industry, social media marketing strategies can help you connect with your target audience and strengthen established business ties. Company branding on LinkedIn is especially effective because of its focus on professional networking and development.
Brand Promotion By Gaining Followers: Palo Alto University
Palo Alto University can serve as an example of how growing your LinkedIn following can promote your brand. PAU is prestigious higher education institution connected to over 1,000 of its students and alumni via its LinkedIn page. Their growing following creates a perfect opportunity to communicate with their target audience.
LinkedIn members are 100% more likely to respond to an InMail from a company or institution they follow. This means PAU has a high chance of response when they send out an InMail compared to a university who is simply mass InMailing LinkedIn members. This high chance of a response rate can be utilized by the university for student recruitment; they increase their exposure even more by sending out quality content that is likely to be circulated through their LinkedIn network.
Marketing Through Authentic Engagement: Stanford University
Stanford University has a significance presence on LinkedIn. They maintain a solid connection with their followers by posting meaningful content. Most of their followers are in the fields of engineering, education, and research. Stanford follows this lead from their target audience and focuses their LinkedIn content on current events, campus news, and academic articles focused on topics pertinent to those industries.
LinkedIn users are mostly interested in job opportunities from companies they follow; this may apply to potential students as well. The more LinkedIn followers a higher education brand can recruit – be it Stanford or any other university – the more likely they are increasing their brand awareness among students they want to apply to their degree programs. The more interesting your content, the more people will want to follow you and keep up with your posts.
LinkedIn as An Extension of Your Brand
Your LinkedIn following may stretch beyond the limit of who you know personally or who is currently using your services. The site is designed to connect people several degrees of separation apart if it's beneficial to them. Yet the foundation of a LinkedIn following will always be the connections you make and develop in person. The above examples succeed by serving as an extension of the brand they have already created offline (e.g. cross-promoting with cooperating institutions they already have an in-person relationship with). Their LinkedIn brand promotion simply builds another facet of their reputation as places of higher learning.

Planning Your LinkedIn Company Page Marketing Strategy
You can start intentionally improving your branding with LinkedIn by considering the purpose of each post, engaging your intended audience, and better understanding the relationship between your company and personal presence on LinkedIn.
Plan Your Posts– Make Each One Count
Answering these few simple questions can help you plan each of your posts so they are targeted and engaging.
Do you know your target audience?
You need to know who you are trying to reach. Even though they're geographically close, a social media marketing company in Palo Alto may be aiming for the attention of a far different audience than a community college in Santa Clara. Understanding whose attention you want to grab is essential for targeted LinkedIn posting.
What content is meaningful for your target audience?
Once you have your target audience in mind, pin down the kind of content they want to read. Make it meaningful for them. If a Palo Alto University is looking to recruit recent San Francisco Bay Area college grads into their master's program, they could choose to post content on getting into graduate school or on the particular field of study they are recruiting for. The difference lies in who they are connecting with and what those LinkedIn users want to read.
Are you sending out a call to action or information only?
Your updates and content can feature a CTA like visiting your primary website or looking at another brand's profile for cross-branding purposes. You can also choose to keep some posts strictly informative, focusing on content your followers will find useful.
5 Tips to Maximize Engagement
1. Make Your Point
One or two sentences will do just fine. Keep your posts fresh instead of bogging them down with too many words.
2. Post Consistently
Just do it! No procrastinating. Use a calendar or hire a professional social media management company.
3. Post Strategically, Post Early
Ensure you reach the majority of your followers on the best days and at the right time. Morning and lunchtime updates often perform best, so post early when possible. Link to relevant content and then let the news item or article do most of the talking.
4. Share Great Content
Share unique and interesting content that will grab your audience's attention and impart important information to them. They're more likely to return to your posts and profile if you have genuine content to share.
5. Enlist Help from Others
Don't do it alone: Enlist coworkers to post, too. The more people you can recruit to create updates and share content, the more facets of your brand you can share with your audience.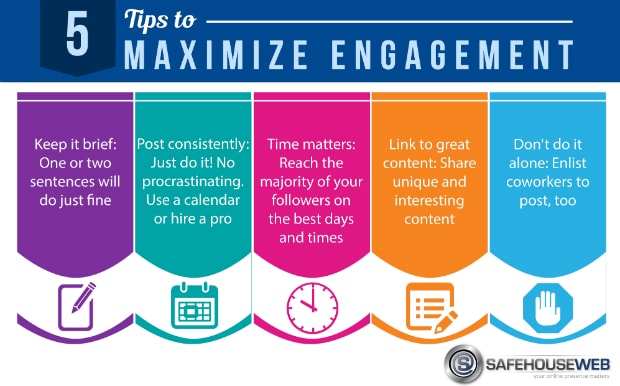 LinkedIn Company Page Updates vs. Personal Status Updates
If your personal profile is tied to your company or institution, you can apply the same plan to your personal profile updates as well. You may have different connections in your personal network and may cast a wider net for your brand promotion by using posts from your personal LinkedIn account. Just be sure to use the same approach with regards to knowing your audience, crafting content, and posting strategically.
If You Have No LinkedIn Company Page Marketing Plan
Just because you include social media in your marketing strategy doesn't mean you have a specific outline for brand promotion via LinkedIn. It takes time to follow the above plan for maximizing your marketing strategy. Many times running a LinkedIn page featuring carefully tailored, frequent updates is not practical on top of other responsibilities.
No Return on Attempts to Market with LinkedIn?
If you're not in touch with the needs of your target audience, aren't sure what kind of content will engage them, or can't figure out the best time of day to post, the results of your activity on LinkedIn might be frustrating at best. A lack of followers may mean a low response to InMail messages; not understanding what your audience wants to read could result in your CTA being overlooked.
It could mean you would find value in running a LinkedIn ad campaign to reach more people.
If you are aware of what your audience is looking for in terms of information, you still may not have the time and resources to update your LinkedIn company page as often as needed. Or perhaps you can craft the content but are unsure about the most strategic times to post it. These are common problems among people new to the more complex aspects of social media marketing.
Bringing on a Social Media Marketing Firm to Help
Social media marketing services can be very helpful if you're struggling to keep up with the social media end of your brand promotion. Higher Education institutions are no different. A social media marketing firm will work with you to create and implement a plan for your college or university that utilizes every feature of a social media site like LinkedIn. They can either get your started in the direction or continue to manage your company page so you can focus on your primary responsibilities.
A social media specialist familiar with LinkedIn can zero in on your target audience, assess what kind of content will be most relevant to them, and design posts that grab attention while providing helpful information to your followers. Social media marketing specialists for higher education organizations know just when your LinkedIn followers are most likely to see your updates, giving your content maximum exposure to the people you want to connect with. In short, they take the guesswork out of social media marketing while allowing you to guide the overall objectives of your company page.
Company Branding on LinkedIn: Start Today
Whether you decide to make your own plan or recruit a social media marketing firm to help, start your LinkedIn branding efforts as soon as you can. Start with a company page if you don't already have one; if you do, start thinking about your audience and what they want to read. Build up your following of in-person relationships to increase your chances of engaging with your LinkedIn connections. Update frequently, at the right time, with the kind of content that will grab your followers' attentions. Use updates from the personal profile tied to your company to broaden your brand's presence. Then get ready to enjoy the dynamic marketing an active LinkedIn company page provides.