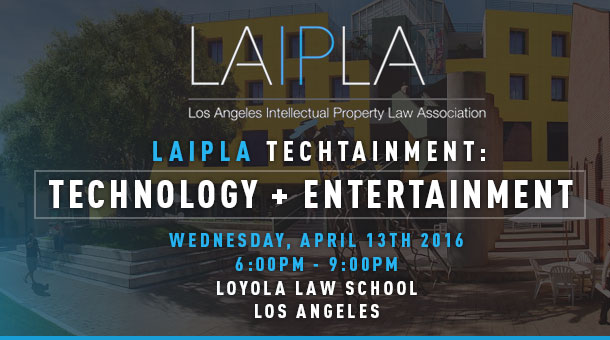 Hollister, CA April 8, 2016 – SafeHouse Web is sponsoring the event Techtainment: Technology + Entertainment hosted by the Los Angeles Intellectual Property Law Association (LAIPLA) and Loyola Law School Los Angeles on Wednesday, April 13. The program features two panels addressing the entertainment and technology industries, one discussing significant technological changes in media distribution and the other considering new methods for optimizing IP portfolios.
Loyola faculty and entertainment industry insiders will consider how technological advances are causing major changes in media distribution. Content providers are among those most affected by the changes brought on by new trends in technology, which will likely lead to a transformation in IP licensing and the way IP law is practiced.
The first panel, "For Your Consideration", will consider recent changes in media such as the rise of digital television distributors like Netflix and the shift away from cable and satellite subscriptions. This panel will ask the billion dollar question: what happens when paid cable/satellite media distribution to American households dips below 50%? "The Final Frontier" panel will look at recent media mergers (e.g. Disney's acquisition of Marvel and LucasFilms) and explore how entertainment businesses can similarly improve fan engagement and increase revenue streams with their own IP portfolios.
An interactive networking session will be held in between both sessions. This function is touted as a must-attend event for IP attorneys.
In the weeks leading up to the event, Techtainment: Technology + Entertainment has already gained attention on LinkedIn, Twitter, and Facebook.
Mark Treitel, Secretary of LAIPLA, says, "This will be a great opportunity for attorneys that have clients in the technology + entertainment sector."
SafeHouse Web has been a proud supporter of LAIPLA's initiatives in the IP industry since 2011. Working alongside small and medium sized law firms in Los Angeles and the San Francisco Bay Area, SafeHouse Web's core capabilities include website & graphic design, social media management, and high performance SEO services for law firms and other businesses. They drive growth for law firms, providing SEO services for lawyers that help them rank well on Google and other search engines.
"Having the privilege to sponsor the Techtainment event is in line with our long-standing support of LAIPLA. We help law firms in Los Angeles with their SEO– which involves the smart use of technology– and this event helps law firms of all sizes address changes in technology and entertainment in the world of Intellectual Property law." -Scott Kindred, SafeHouse Web.
The program will be held on Wednesday, April 13 from 6:00PM to 9:00PM (with registration from 5:30PM to 6:00PM) at Loyola Law School, 919 Albany St, Los Angeles, CA 90015. You can find out more about the event on the LAIPLA website. You can contact the LAIPLA office at office@laipla.net or 323-285-1654 with any questions.