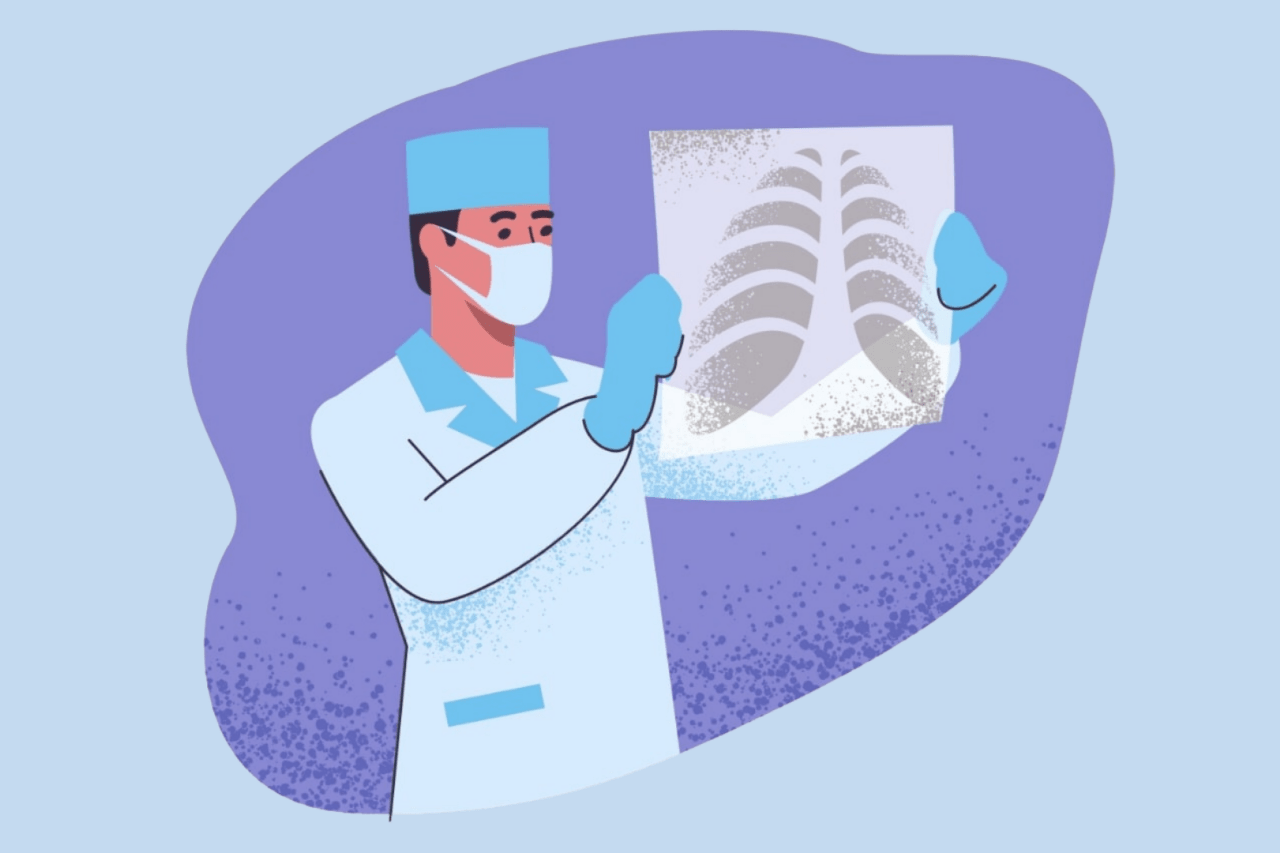 As we approach the one year anniversary of the COVID-19 pandemic in the U.S., we are reminded of how our small community in San Benito County has banded together. Most recently, the Hollister Downtown Association, in partnership with the Community Foundation for San Benito County, have organized a Meals for Heroes program.
This program provides meals to the frontline staff at Hazel Hawkins Memorial Hospital in Hollister as they treat COVID-19 patients. The meals are supplied through partnerships with local restaurants and funding from local donors. SafeHouse Web is a proud contributor to the program, glad to see the community come together.
A $500 donation will cover the cost of 25 meals for delivery to essential front-line workers at Hazel Hawkins Hospital working directly with COVID-19 patients. Please donate. -Team HDA (Hollister Downtown Association)
Just down the street from the SafeHouse Web office is The Grillin & Chillin Alehouse. This plucky, small-town watering hole jumped at the opportunity to provide lunch for the Emergency Room staff. It has been nearly a year of strict regulations, and the local restaurants have been greatly impacted. The Alehouse, along with several other crowd favorites in San Benito County, have been on a roller coaster of closures, outdoor dining, and to-go only restrictions.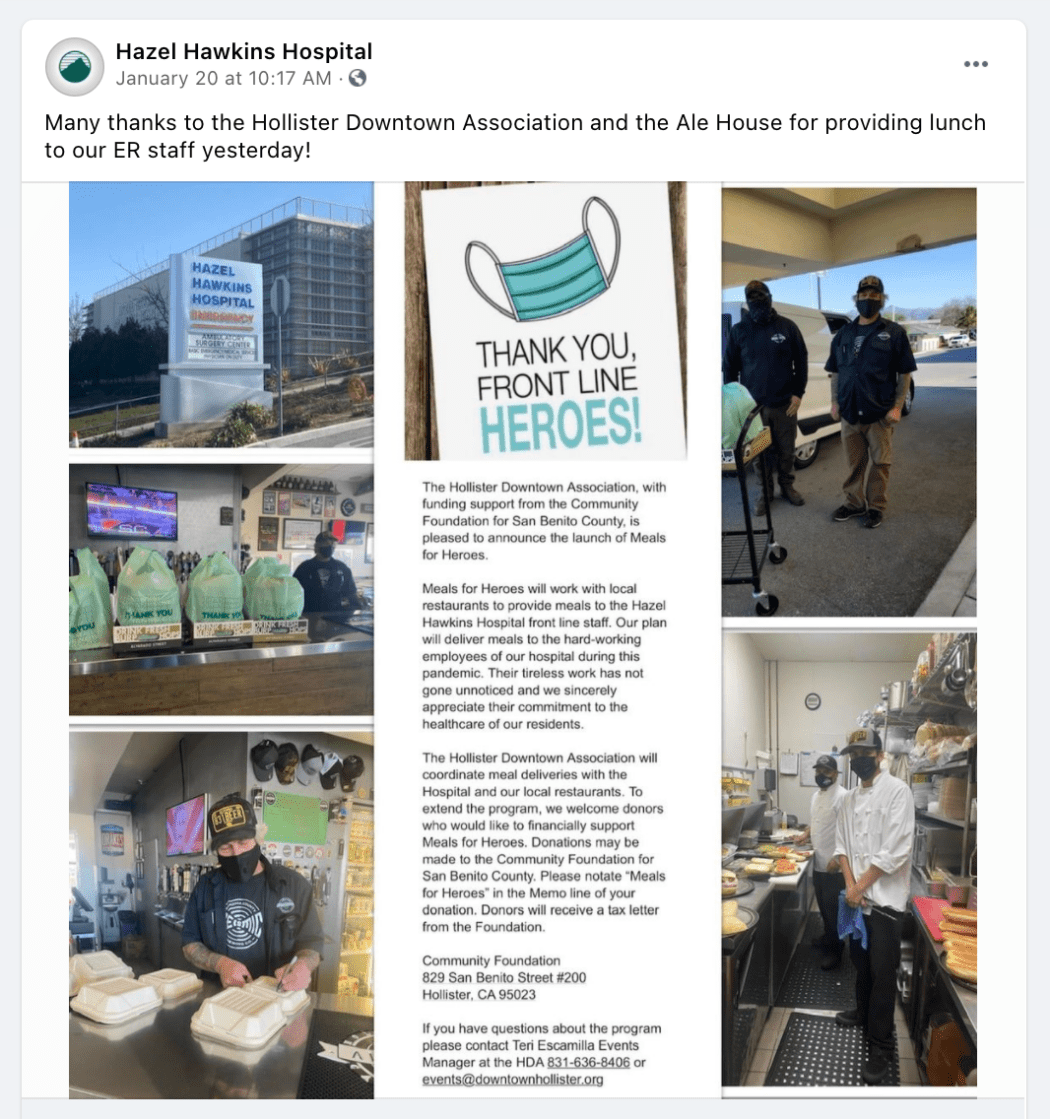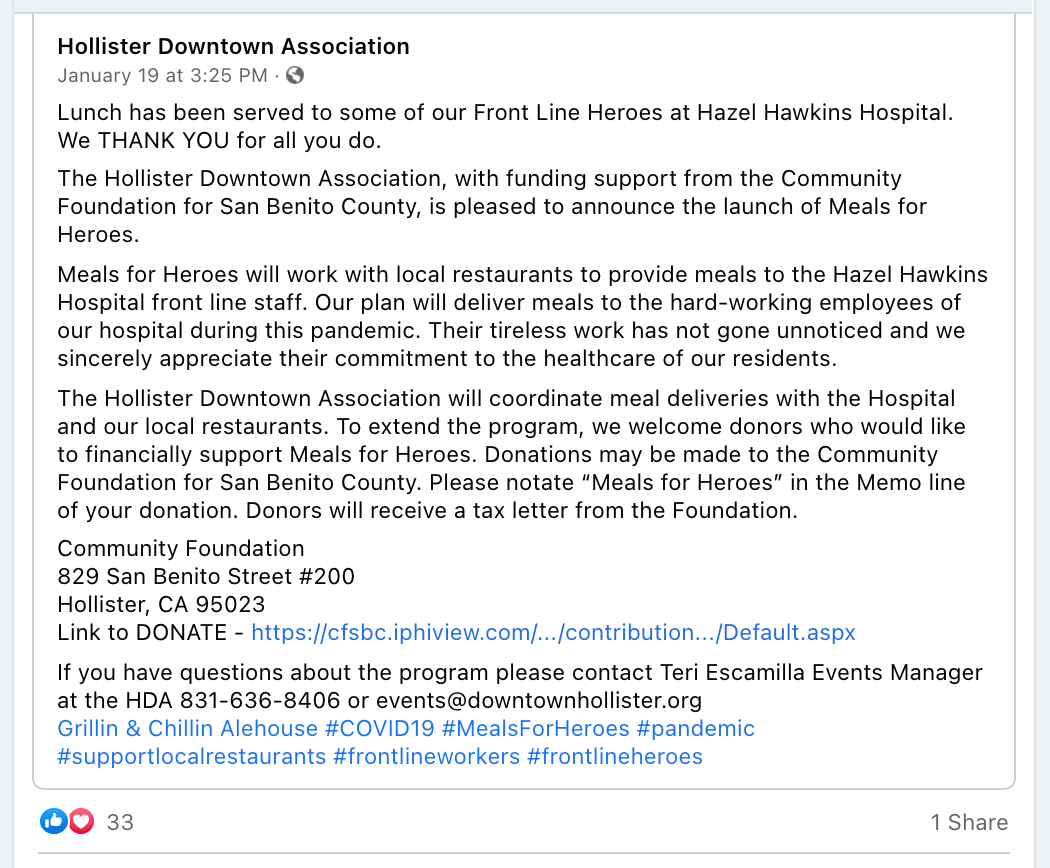 Another local restaurant, La Catrina Mexican Grill, also stepped up to the plate by making lunch for the Med/Surg staff. Known for their family recipes and daily specials, La Catrina has become a crowd favorite in downtown Hollister since opening in 2014.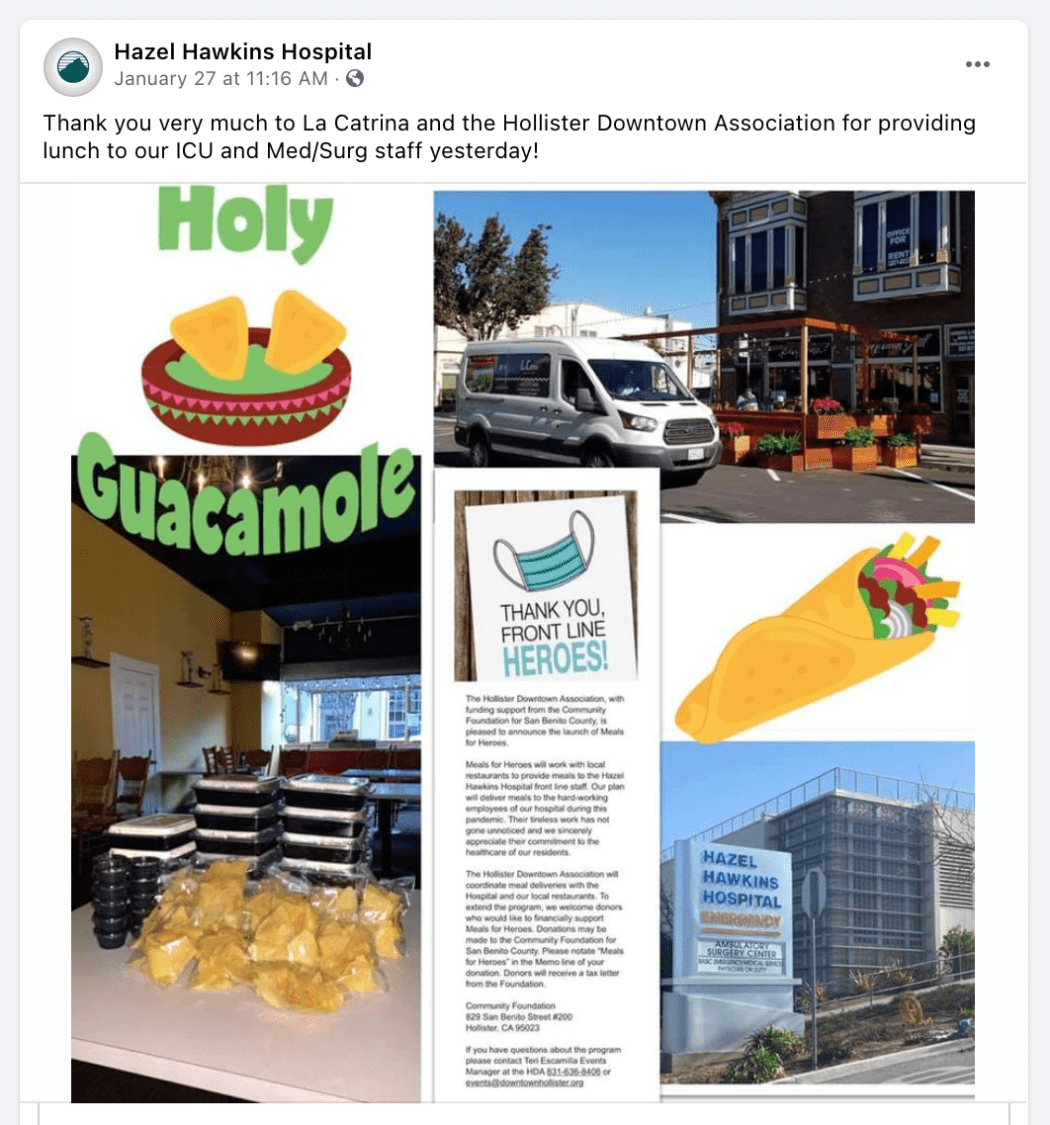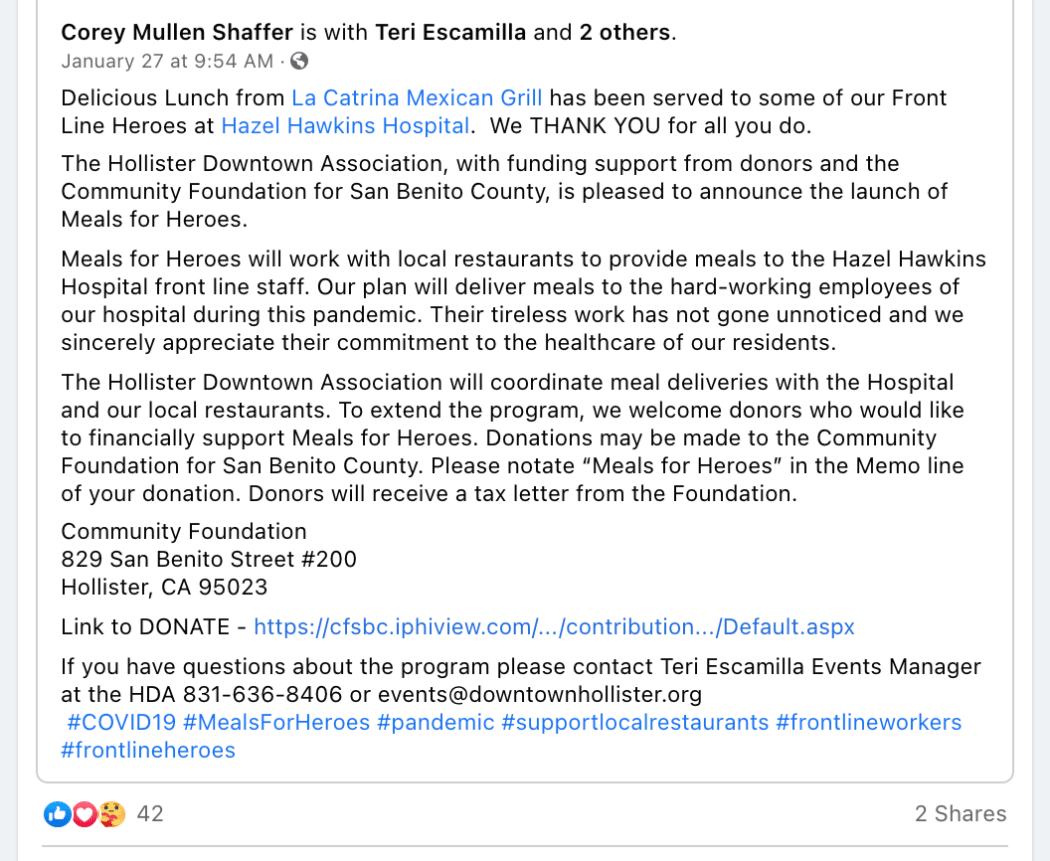 Though the Meals for Heroes program was initiated in early January 2021, local restaurants have been banding together for months in an effort to assist hospital staff. The local McDonalds, Subway, and Togo's have all donated meals to Hazel Hawkins Hospital since last year.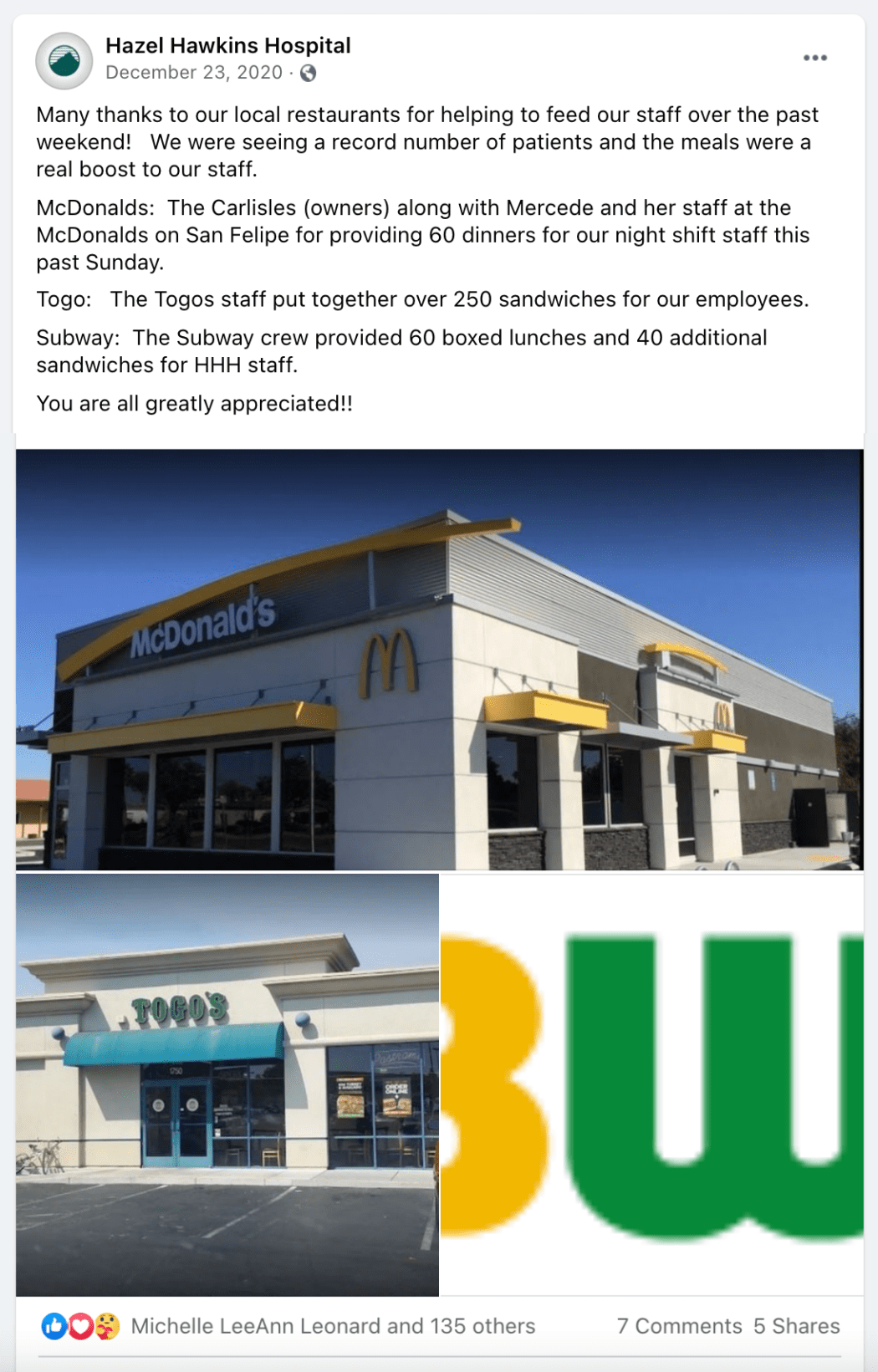 With the grit that is signature to many small towns, the community in San Benito has met every obstacle with creative solutions. Residents and businesses continue to do what they do best: support one another.
Donate to Meals for Heroes on the Community Foundation for San Benito County website.