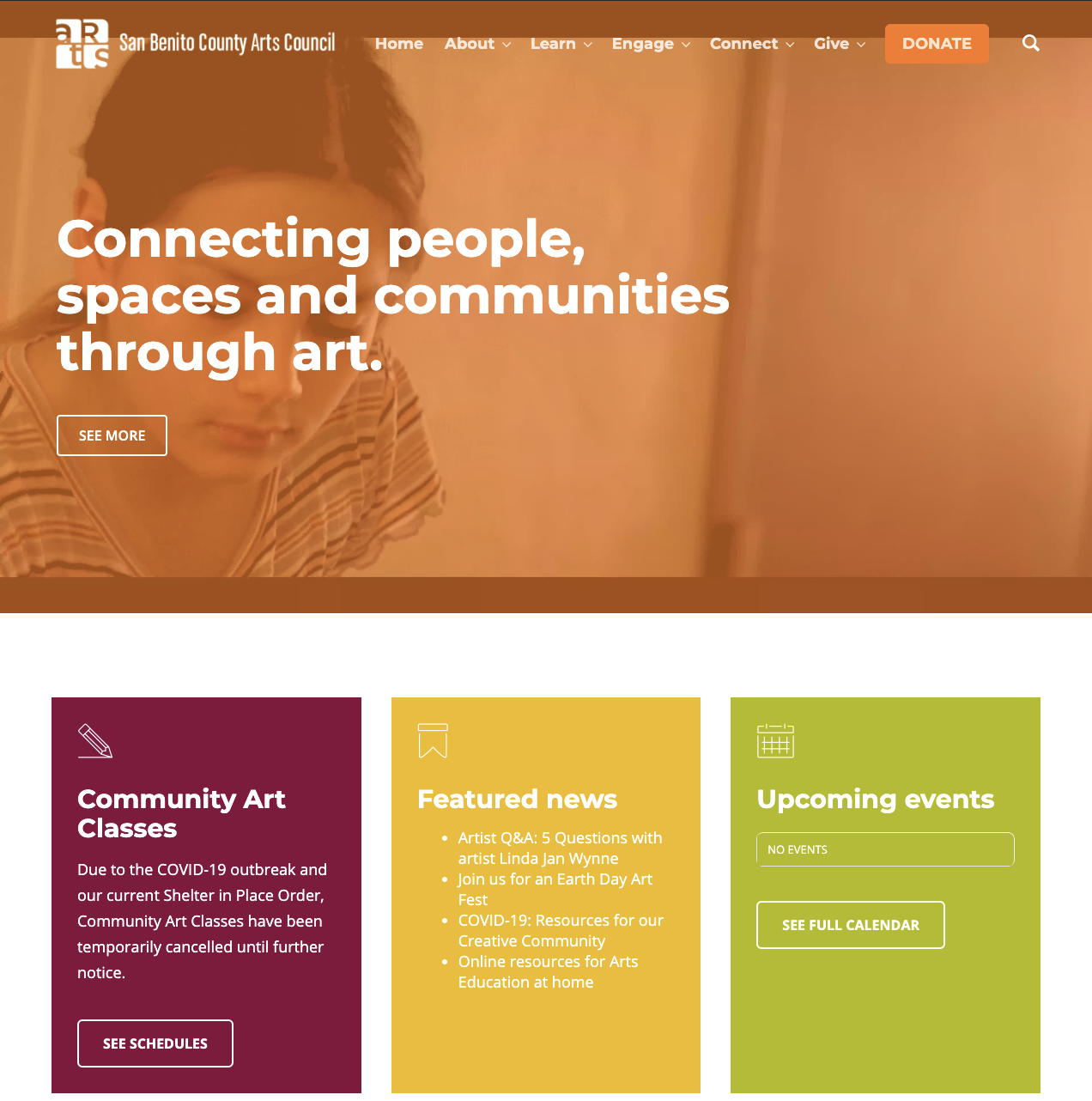 The website's home page locks in a color palette that is based on the Arts Council logo.
When the San Benito County Arts Council was in need of a new website, Executive Director Jennifer Laine knew just whom to turn to.
"We work in the same building as Scott Kindred," Jennifer said. "We had a very old website that had had one rebrand with WordPress, which was a massive upgrade at the time, but with technology changing rapidly, we needed to take another look at our digital side. Scott had a vision for what our website needed."
The Arts Council serves the city of Hollister and all San Benito County by connecting people, spaces and communities through art. In addition to providing studio space and art classes, they are also involved in art advocacy and bringing arts programming into local schools. Being an organization that serves the arts, it was important to Jennifer, as well as to Marketing and Brand Manager Heidi Jumper, that the website both reflect the artistic community around them and be visually appealing. Serving in the arts required that the new website be an artistic and creative space.
"Scott was great to work with," said Heidi, "because he is familiar with who we are, whom we serve, and our organization. He had a clear picture of what we wanted to communicate visually."
The new website for the San Benito Arts Council features bright colors and beautiful videography, reflecting the diverse clients and artists within the community.
"We wanted to show who we are in a visually dynamic way," said Jennifer, "and convey our voice and the type of organization that we are in this community. The website is a great way to put ourselves out there and represent who we are and whom we serve."
"The website is really reflective of who we are as an organization," agreed Heidi. "I like that even though we are in a small, rural community, we can communicate who we are in the community. The old site and marketing materials weren't reflective of that."
With the new website in place, Heidi is able to focus on her overall marketing plan. "We have an explicit plan in place, and the new website allows us to accomplish our marketing goals more visually, using pictures that tell stories about what we do. That was hard to embed in our old website. We can do a lot more storytelling now on this new platform. Since we're an arts organization, the visual aspect of the website is very important. I can be more thoughtful now about the content and the visual impact we are making."
Grants fund website redesign
The website upgrade and redesign were the result of two grants that the Arts Council received, one from the California Arts Council and one from the Community Foundation for San Benito County.
"We've wanted to redesign our website for about three years," said Jennifer. "We had heard from different constituents that the site wasn't functional. Our programs and the communities we serve have grown in that time, and the old site didn't reflect that. We needed this new platform to provide an accurate reflection of who we are in the world."
A key component of the website upgrade was moving their Open Studios Art Tour application fully online. In addition, having the initial process for grant applications online has streamlined some of their workload.
"It works really well having both online," said Jennifer. She also noted the importance of online giving. "We participate in San Benito Gives and Giving Tuesday, so harnessing the website will be an improvement over previous years."
The new website marries succinct information, an easy way to donate online, and with a streamlined design that is easy to read, and the community has already taken notice.
"The feedback is that the website is more visual, and our constituents enjoy what we're talking about. Before it was very text heavy, and it's important to be visually dynamic as an arts organization," said Heidi.
Information more accessible to the community
Accessibility was also an important feature of the redesign. "The website provides more accessible information to the community," said Jennifer. "This is particularly important, as our small staff and art instructors are often off-site at community events. When we aren't there in our office, our website serves to provide information and support."
Accessibility has become even more important, as communities focus on social distancing in this season. The Arts Council is using their website and blog, in addition to their social media channels, to share free virtual programming and other art-based content. The free content includes tutorial videos with their teaching artists, art performances, virtual tours, highlights from members in the community, and even culinary arts resources.
The impact of the new website has gone beyond activating the surrounding community; Heidi has been able to focus more on storytelling and communication to the public about who the Arts Council is as an organization.
"I am able to tell better stories," she said, "stories about our programs and people. We have been able to show our broad service and how many different communities we are involved with."
Jennifer reiterated the impact that the redesigned website has had for the Arts Council. "We were hoping to have a more visible, vibrant public image that reflects the programs and services that we offer and the members and constituents that we serve. The redesign achieved that."
Check out the web design for the San Benito Arts Council. To learn more about our web design services, contact SafeHouse Web.