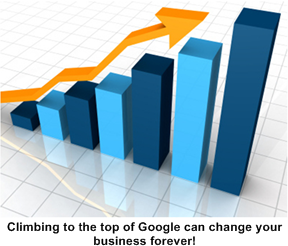 SafeHouse Web is honored to present this guest blog post from Mike Glover, Internet Marketing Specialist and trusted colleague.
Ranking high in the Search Engine Results Page (SERP) is no longer optional if you want to succeed with an online business…it's mandatory!  The amount of content that is searchable is growing and expanding by the minute.  Finding your way to the top of the SERP can seem like an overwhelming or impossible task.  Rest assured it is not impossible, nor is it an option if you want to grow and expand your business.  With a little over 88 Billion searches occurring on Google each month, it's obvious that the Internet has become the new Yellow Pages.  As a society, we now search the internet for everything from driving directions to product reviews while we stand in the store and stare at a potential purchase.  Smart phones, laptops, tablets and the abundance of free WiFi has made us an extremely mobile and search agile society and these numbers are predicted to more than double in the next 5 years.
So let's look at some real numbers and see if an Organic Search Engine Optimization program is right for you.
There are 88 Billion searches on Google each month or
3,000,000,000 Searches per day or
121,000,000 Searches per hour or
2,000,000 Searches per minute or
34,000 Searches per second
Source: Search Engine Land, February 2010
57% of all Internet users conduct a search on the internet every single day!
Source: Marketshare.Hitslink.com, October 2010
46% of all daily searches are for information on a product or service.
Source: SRI, October, 2010
20% of all monthly searches are for local businesses.
Source: Google, April 2010
70% of all click-through links on the SERP are on Organic Listings, not the Paid Links.
60% of all organic link clicks go to the top 3 Organic Listings.
Source: Marketing Sherpa, February 2007
75% of search engine users NEVER go past the first page of the search results.
Source: Marketshare.hitslink.com, October 2010
Still need more convincing?  Then you probably skimmed this article and did not pay close attention.  Go back to the beginning and reread this article nice and slow.  Note the REAL numbers and then apply them to your business model.  Could your business website benefit from getting a larger piece of the search engine results pie?  I'm sure it could, but if by chance you still need further justification, check out this reference article:
A Simple Way to Calculate Return On Investment for SEO
If you would like an actual spreadsheet that helps to calculate your SEO Return on Investment, you can contact the author below for a free copy.
About the author:

Mike Glover is an Internet Marketing Specialist at click-finders.com.  Mike has been building websites and performing SEO Services for over 10 years.  Click-finders.com offers a full range of Internet Marketing services including SEO Services, PPC Management, Social Media, Inbound Marketing, Affiliate Marketing and more.  Contact Mike through www.click-finders.com, Twitter, Facebook and our Organic SEO Blog to learn more about Organic Search Engine Optimization and even request a free SEO Website Analysis.