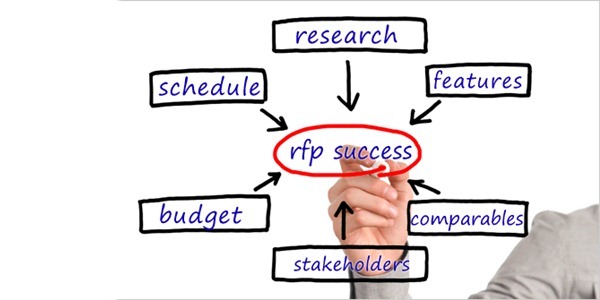 Confused and overwhelmed are the two most common words I hear when a client, or potential client, asks me about writing an RFP (Request For Proposal) for a website project. Have you ever done a Google search to find tips for writing a good website RFP? If your answer is yes, then you know very well that there are tons and tons of examples and outlines available… many of them look to be more complex than tax code instructions. And, if your answer is yes and you have found this post, then you're in for a simple surprise: a simple RFP outline.
Now, the website project can be for a redesign or for a brand new look. Either way, there are a few very basic points that must be defined. I have sifted them out into 5 main areas:
1. Your Objectives
Do you want to convert your static HTML website to the WordPress CMS for better content management?
What challenges do you have with your current website?
What strengths do you have with your current website?
Do you want to sell products or services online?
Do you want to redesign your website to match new branding guidelines?
2. Your Target Market
Who is your target market? How would you describe them? What are their income levels, age group, interests and other characteristics that would influence their buying decisions?
What makes them tick? What motivates them?
What are their pain points? What do they want to avoid?
3. Your Company Background
What products or services does your company provide?
How long have you been in business?
What differentiates your product or service from your competition?
Include samples of your existing marketing collateral like brochures, business cards and links to your social media profiles (facebook, twitter, linkedin, google plus).
4. Website Specifications
Inclue a sitemap.If you plan to expand content or this is a new website, include a sitemap or list of pages and subpages.
Include samples of other websites that you like and why you like them.
Include samples of other websites that you don't like and why you don't like them (this is optional but helpful).
List and describe any other functionalities you need, such as memberships, funneling your form data to your CRM, email marketing, ecommerce, social media, etc.
5. Budget / Timeline
This is a make or break question because most people want the project completed ASAP and for the cheapest price. Oh, and it must be a high-quality, professional website. However, the age-old adage of "Good, cheap or fast, which two do you want?" is pure truth.
Certainly, you can hire an overseas web developer for a few hundred dollars but their time zone will not be convenient nor effecient for communicating with you, there will be communication problems in the form of language barriers and you will have to pay very close attention to the likelihood that they will only do exactly what you ask and not more. So if you don't know specifically what to ask for and how to describe it plainly with little room for misinterpretation, you may end up with something much different than what you expected.
Custom WordPress websites start around $2,000 if you are hiring someone local and who knows what they are doing. If you are unsure how long things take or what your website budget should be, ask around. Shopping around is a good idea and be sure to evaluate portfolios. Caution: there are a ton of WordPress specialists in the market; this is good for the consumer but it can also turn into a daunting task of screening scores of potential designers. My advice is to look first at the designer's website, contact information and portfolio. Use your visual gut-instinct to decide whether or not to spend your energy pursuing a particular designer. This can help save you tons of time.
Keep in mind, if you include a reasonable budget range in your RFP, most web designers will appreciate your upfront disclosure about how much you can afford to spend on your website project and they will try to work with you.
Following the above outline is what I recommend to anyone who comes to SafeHouse Web to inquire about a website project. I love giving people advice on how they should write their own RFP – it makes their lives much simpler and, if they end up hiring me for the job, their RFP meets all of my informational needs right off the bat. This means quicker turnaround and a better finished product.