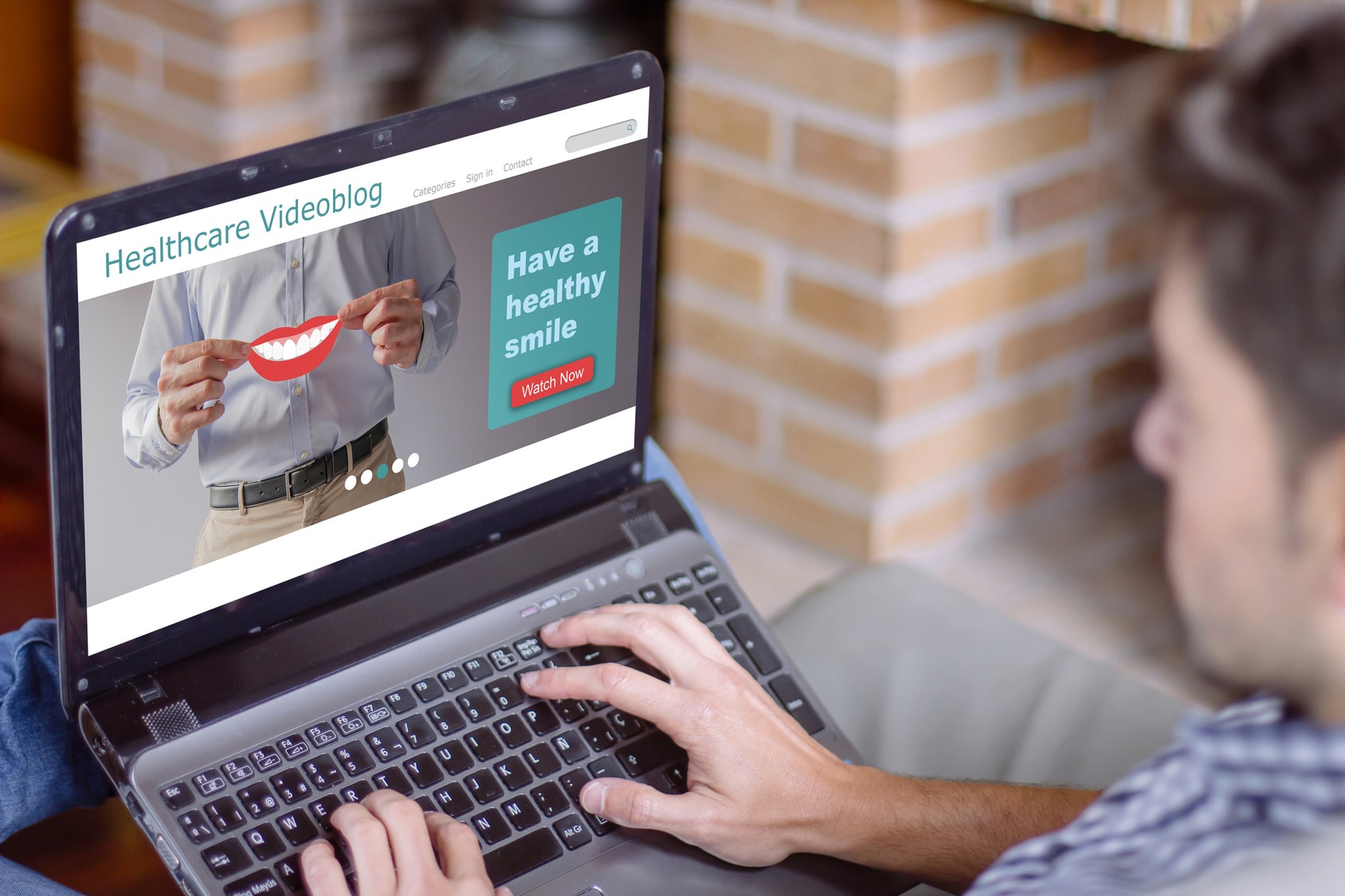 The ethics of marketing and advertising is a hotly debated topic in the healthcare industry.
American hospitals alone spend roughly $1.5 billion per year on advertising.
However, healthcare digital marketing campaigns come with some risk. There have been several recent, high-profile court cases in which doctors have been sued for false advertising.
In one case, the Federal Trade Commission ruled that four weight-loss companies engaged in deceptive marketing practices. The end result was a $34 million refund to consumers of the products.
In another case of false advertising, an Australian chiropractor was charged with false advertising for claiming his practice could prevent and cure cancer.
Read on to learn more about unethical marketing and advertising practices. Find out how to appropriately communicate with prospective clients and what constitutes ethical digital content.
Social Media's Role in Healthcare Digital Marketing and Advertising
The last decade has dramatically changed the landscape of healthcare digital marketing.
Social media outlets like Facebook and Twitter have revolutionized how marketers reach potential customers. The healthcare industry is certainly taking advantage of these platforms as well.
Facebook and Twitter afford doctors and hospitals a great way to cheaply and directly communicate with consumers.
The digital age has increasingly encouraged patients to seek medical advice online. The desire to seek out medical information can often lead patients to the profile pages of hospitals and doctors that share this knowledge.
In some cases, this search can even facilitate direct communication between medical provider and patient.
It is in situations like these that healthcare professionals must be cognizant that ethics considerations for traditional marketing still apply.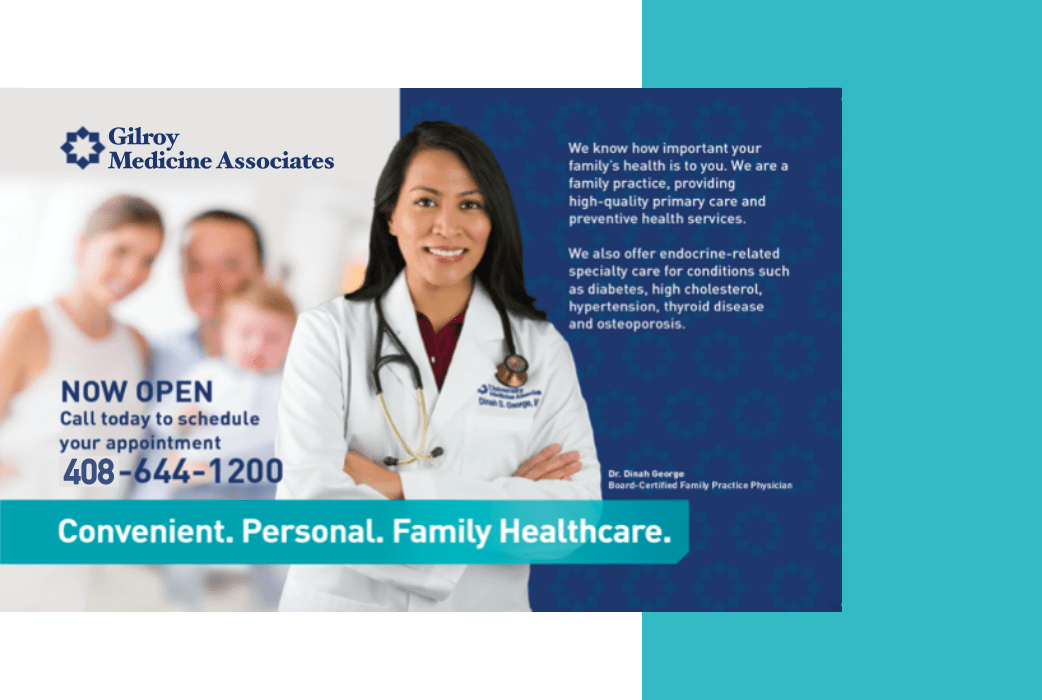 Example of a Facebook Ads creative for a digital marketing campaign for a healthcare firm. Shown here, the ad maintains visual consistency between the social media marketing and the website design for Gilroy Medicine Associates. Colors, typography and tone of the messaging is consistent with use of a branding & identity style guide.
Honesty Is the Best Policy
This is obviously the easiest way to avoid ethical issues. However, honesty in the healthcare industry is an expansive definition.
First, it means that you should not embellish or hype qualifications and credentials.
Advertisements should refrain from labeling a doctor, "the best cardiologist in the San Francisco Bay Area," or anything like, "the top cosmetic surgeon in Silicon Valley." This includes other superlatives ranging from "top" to "world-renowned," among many others.
In general, advertisements must avoid deceptive or misleading claims.
One way in which healthcare digital marketing can be deceptive is fear-mongering. Exaggerating the likelihood or risk of a condition is not viewed favorably upon by the judicial system.
In cases such as these, patients may incur unnecessary expenses to get unwarranted procedures performed.
Lastly, live videos on social media are considered a very effective marketing strategy right now. If you do elect to use video testimonials, they should be from real patients and not actors.
Promoting fictional stories and testimonials from fake patients is certainly not an honest approach.
Avoid Promoting Specific Products, Especially to Targeted Groups
When it comes to digital promotion, there are generally three rules of thumb to follow.
First, avoid the promotion of specific medicines, devices, products, or procedures.
Each patient should receive a personalized treatment plan after consultation and testing with a doctor. Before deciding on a medicine or procedure, doctors are required to fully disclose the risk and benefits of that course of action.
By minimizing this step, or downright skipping it, doctors become vulnerable to medical malpractice lawsuits if things do not go as expected.
Second, refrain from targeting groups divided by gender, sexual preference, race, religion, class, or politics. Not only is discrimination in the medical field illegal, but even an accusation or suggestion of such could damage the reputation of the practice.
And lastly, you should not promote a hospital or practice at the expense of a competitor. By doing so, there is an increased likelihood of a defamation lawsuit.
It is best for doctors and hospitals to avoid comparing against each other altogether.  Ranking should be left to independent research conducted by third-party publications.
Three of the most popularly known medical journals are The New England Journal of Medicine, the Journal of the American Medical Association, and The BMJ (formerly The British Medical Journal). These third-party publications can be a source of content for digital marketing campaigns and can provide that necessary air of independence.
Treat Patient Information Consistently Both Digitally and Physically
Today's social media is dominated by trending personal stories and daily updates. Both doctors and hospitals must treat this information with the same care as information revealed in an office visit.
Consider a patient sends a private thank you message on Facebook. It would be entirely inappropriate to share this message on any social media platform without written consent.
There is also a chance that doctor and patient develop a relationship and establish a social media connection.
Medical providers should avoid passing judgment on the habits or activities of a patient from social media activity. For instance, it would be unethical for a medical provider to order a test based on unhealthy eating habits observed online.
As expected, medical providers should utilize information gleaned from social media sparingly and continue to rely on face-to-face interaction.
The boundaries of personal interaction between provider and client are blurry. The safest course of action is to separate the office from personal activity.
Additionally, treat patient information, regardless of how it is obtained, with the same privacy protections as you would in the office.
How to Engage in Ethical Digital Marketing
Now that you understand what not to do in the digital marketplace, it is time to learn what you can do.
Medical providers have the right to advertise by whatever means possible, so long as it does not violate the ethical standards of the American Medical Association.
This includes social media and other digital means such as websites or e-mail. It also encompasses all other forms of traditional media like newspapers, radio, magazine, and television.
If you decide to pay an advertising firm, it must be disclosed regardless of the source.
The best way to advertise is to focus on the medical specialty, qualifications, and the area serviced. Exercising integrity in these areas will prevent the vast majority of ethical dilemmas.
Successfully Navigating the Blurry World of Healthcare Digital Marketing
With the tips and tools provided in this article, medical professionals can feel better prepared to advertise their business. Or be better prepared to hire a digital marketing agency to plan and implement a strategy on their behalf, and feel well-informed about it.
Using your website, social media, email marketing and your array of traditional marketing will inevitably bring more patients and grow your business. Remain consistent with ethical standards and people will be comfortable with telling their friends about your practice.
If you have any questions about starting or enhancing your digital marketing plan, drop a comment below or contact us for assistance.
Social Share