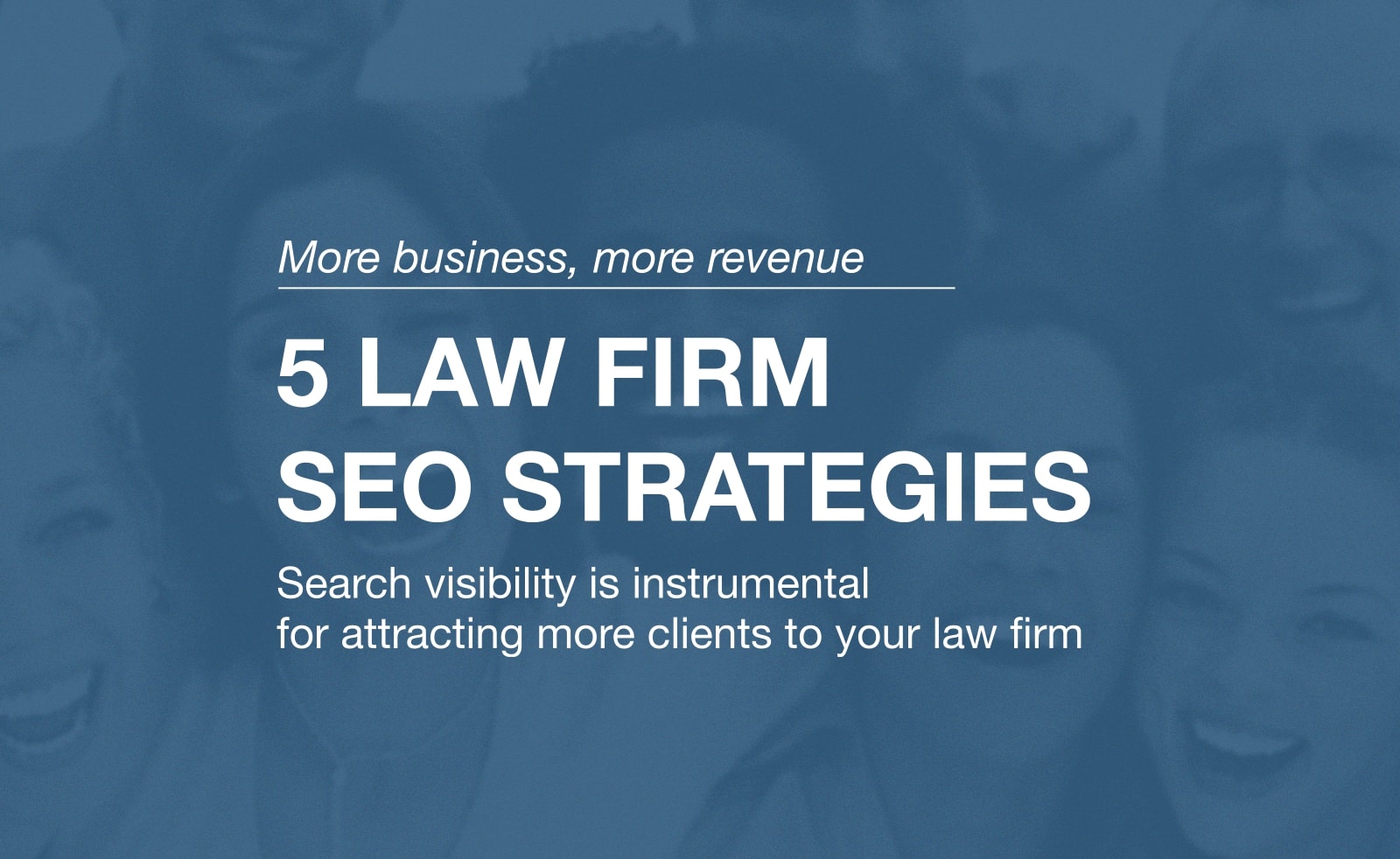 In a study by Moses & Rooth of how people find lawyers, only 9.4% of participants reported that they had found one online – lagging way behind the 13.6% who said they went with a recommendation from a friend.
Yet search engine optimization (SEO) is one of the most important tools in the box for generating client leads at a low cost. Is your law firm SEO up to scratch?
Here are 5 law firm SEO strategies you need to implement right now.
Start NOW and be consistent
Many law firms are dragging behind in their SEO strategy, which means they are missing out on potential clients.
The good news is that the whole industry is slow on the uptake for SEO. So getting started soon will give you the competitive edge you need to secure clients ahead of your competitors.
Search engines like consistency. Targeting some well-researched keywords right now, and sustaining your strategy in the long-term should mean that your site will rank very highly in search for those keywords.
Being consistent means hitting the right search terms, which accurately reflect the business you do, and posting regularly – whether that be in the form of a news piece, a blog or even simply updating web pages frequently.
You will need to keep up with SEO trends so that you can tweak your strategy over time so that your site remains optimized.
An ethical approach to law firm SEO
We understand that the legal profession is heavily regulated and that different rules apply depending on your relevant state bar association.
However, we believe SEO activity can be both compliant and ethical, so long as it's done the right way.
Perhaps the best way to achieve this balance is by creating content that is as neutral but as interesting as possible, as well as following rules that are actually already common SEO practice.
For instance, keyword-stuffing is unethical – and is also now an unsuccessful strategy, following changes to search engine algorithms. This is a good example of why writing 'normally' often succeeds.
Sure, you need to think about keywords and the technical elements of the website. But the best content is that which answers your website visitors' questions and doesn't try to push services too hard.
That's why blogging can be so effective at reaching customers and improving your law firm SEO, as it is not a primarily a commercial activity. Of course, before blogging you need to think about who your audience is, and what they are looking for.
Writing for your specific audience

When writing for your website, you must remember that most of your customers will not be legally trained.
Your legal colleagues may find the finer points of a particular case fascinating. But your customers will probably struggle to understand what they are talking about when a blog post about something so complex crops up.
You need to find ground on which to really engage with your customers and encourage your colleagues to tackle those subjects. Primarily, customers want to know about the things which affect them.
We know that it's inappropriate to suggest how a specific type of case might go, but there are still lots of ways of being helpful without promising people too much.
For example, a lawyer who specializes in conveyancing might write a helpful blog about the steps a buyer needs to take to protect themselves during the process. Or a trial attorney could write about how people can best prepare themselves before attending a court hearing.
It's these nuggets of information that will effectively show off your expertise. And people are likely to be searching for this kind of information, and with a good SEO strategy, they're likely to find it.
From there, a good linking strategy will push interested customers further into the website to find out more about your services.
But if you publish material about the Supreme Court's latest judgments, not many people will click on your page. Meanwhile, your bounce rate will rocket.
Think about the technology
You may not have the time to think through all the technical aspects of your law firm SEO strategy. Consulting a professional on web design and back-end SEO optimization may, therefore, be advisable.
However, you do need to think about how the end result will deliver you with results. This means being aware of the benefits of mobile SEO, local SEO and review sites, and how these tie in with your website.
"You need to make it super obvious where your firm is located. An effective SEO strategy will include your location and show users where you are from the [Google] search results page. Smart digital marketing for Silicon Valley law firms will emphasize location, always." -Scott Kindred, SafeHouse Web
That's invaluable exposure – many people's decision on which law firm to pick won't just be based on their perception of the firm's skill, but how convenient it is for them to arrange to visit.
Showing them exactly where you are before they've even visited the site will help to push them in your direction. This is just one way in which your law firm SEO strategy can get ahead of the competition.
Do you use social media?

Social media is another cost-effective platform in its own right but is best used in conjunction with your law firm SEO strategy.
When content is shared, it not only increases exposure but from an SEO point of view it means that content is likely to be indexed faster by search engine crawlers.
Shared content also encourages external link-building, as other people react to your post and link back to it from their own websites.
And building a social following is never a bad thing either – the total number of followers and connections your social media has can impact affect your search rankings.
Contact us for more advice on your law firm SEO
We provide outsourced solutions for law firms looking to improve their SEO strategies to generate cost-effective leads.
Our consultation services can guide your digital plan as a whole – including everything from web design through to social media usage and content strategy.
Contact us today for an initial consultation where we'll fully explain how our integrated approach will benefit your business.
SafeHouse Web is Silicon Valley digital marketing company in Hollister, California, that provides expert WordPress website design, social media marketing, and proven SEO solutions. Email us at hello@safehouseweb.com or call (831) 205-0077.